In 1984, Michael Jackson took the music world by storm with Thriller. On the big screen, Ghostbusters and Indiana Jones and the Temple of Doom smashed all box-office records. It was also the year when Facebook founder Mark Zuckerberg was born, and the year the first SEAT Ibiza was launched on the market. Since then, this model has been driving on streets and roads all over the world continuously for 33 years. Keep reading to find out some interesting facts and figures about this legendary model.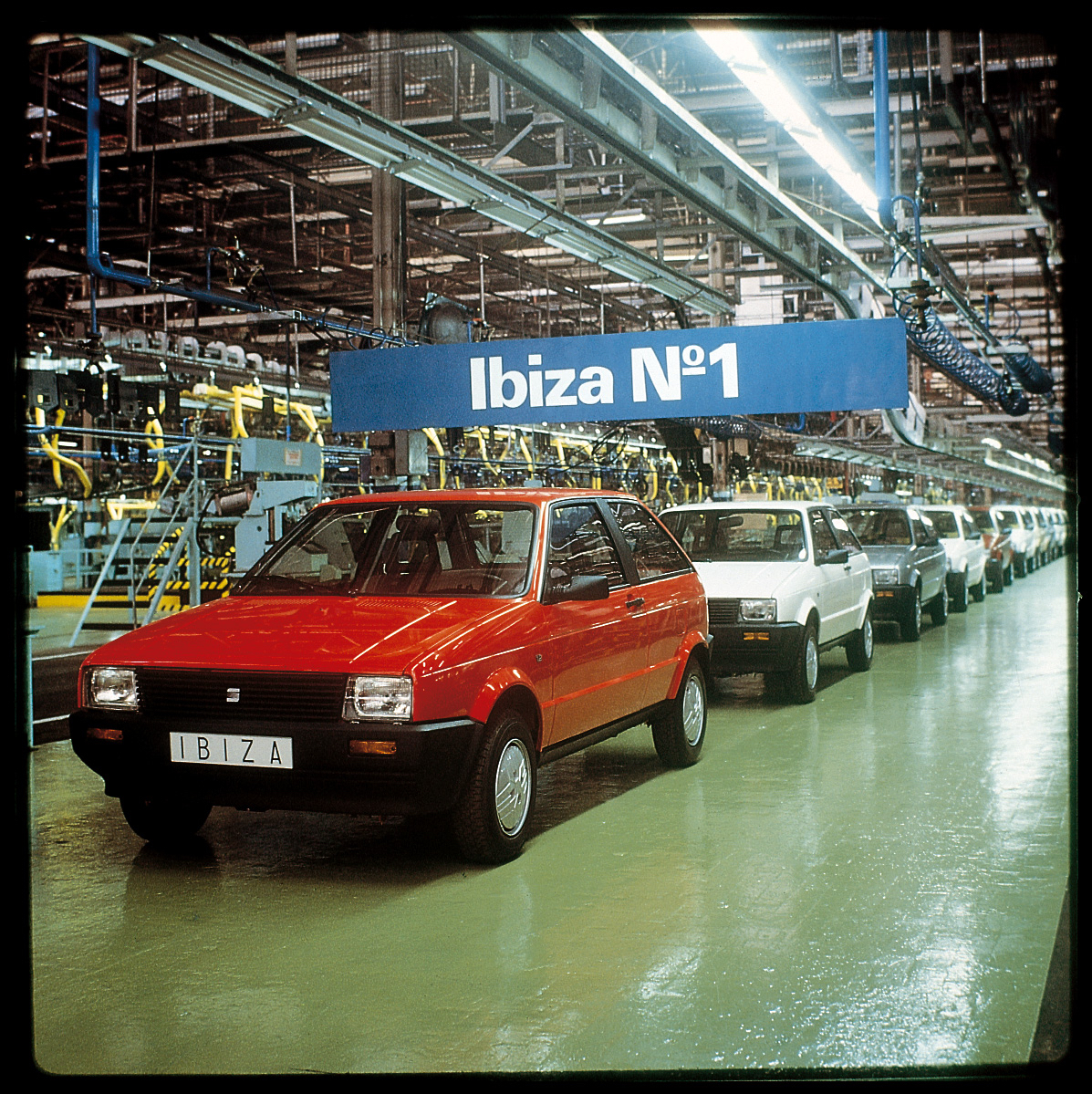 Four generations and more than 5.4 million units sold In three decades, the SEAT Ibiza has accumulated four generations. It is the top-selling Spanish passenger car – to date, more than 5.4 million units have been sold. If they were arranged in a straight line, they would exceed the distance between Barcelona and New Zealand.
Created in Barcelona Every generation of the Ibiza was designed, developed and produced in Barcelona. Italy's Giorgetto Giugiaro was the Design Director responsible for the first generation. The engine was developed with the collaboration of Porsche, thereby creating the System Porsche designation, and car module manufacturer Karmann helped build the bodywork.
Fuel consumption lowered to less than half After 33 years, the SEAT Ibiza consumes less than half as much as the first generation – from 7.8 litres/100 km in 1984 down to 3.6 litres on today's 90 hp Ibiza 1.4 TDI.
8 out of 10 Ibizas are exported Every day 700 new SEAT Ibizas roll out of the Martorell factory. Of these, 80% are exported to over 75 countries. In fact, the Ibiza was behind the internationalisation of the brand as it was the first model to be regularly exported from Martorell.
Headline figures of the Ibiza More than 700 robots are involved in its production. Each vehicle contains 3,000 parts, and it travels nearly 12 km to complete its production process. In addition, since 1984 more than 70 million kilos of paint have been used, which is equivalent to painting the Eiffel Tower more than 1,000 times.
Women's role The Ibiza was the first SEAT car to integrate women on the production line. Today, women account for 1 out of every 5 workers on this line (21%), the highest rate in Spanish industry. In addition, the global market has seen more and more women buyers in the last ten years, accounting for 51% of the share compared to 42% in 2004.
Passion for competition  The Ibiza was the official car of the Barcelona '92 Olympic Games. It also achieved notable successes in competition racing, such as the three FIA World Rally Championship titles in the 2 litre category in 1996, 97 and 98.
Browse the SEAT range of offers available from Vospers at Vospers.com/SEAT