He may have only just finished college but Chris Ingram is a young man on a mission. His mission is simple – make his mark on the world rally driving scene.
It's no mean feat but at the youthful age of 18 he is already leaving others on the rally scene in his wake and he has this year's Renault Twingo R2 Trophy at the Rallye Mont Blanc in his sights. Vospers Blog was delighted to catch up with this young mover and shaker in the motorsports world to find out a little more.
Ingram has come a long way in the three years since he made his first entry to the Junior F1000 Championship, although like so many involved in the motorsports world it seems that the speed and excitement of the sport may have been in his blood.
Ingram enjoyed seeing his father, Jon Ingram, participate in the National Rally Championships several years ago and fell in love with the idea of a life quite literally on the road. Father and son heard about the Junior F1000 championship when Ingram was just 15 and they didn't waste time in securing the young wannabe a place. It was well placed confidence too, Ingram scooped a victory taking six wins out of seven rallies.
Though Ingram clearly had a better insight than most young wannabe drivers into the rallying world, he is keen to point out that there is room for more young people to enter the sport without huge cash backing. He explains;
" I think it is easier than most people think to get into motorsport. There are grassroots motorsports which are easy to get involved in that are cheap. It is difficult to run a rally car without backing but with enough determination it is possible."
While his father is a clear influence on Ingram's passion for the sport, it is Brit rally legends Colin McRae and Richard Burns who are his ultimate inspiration.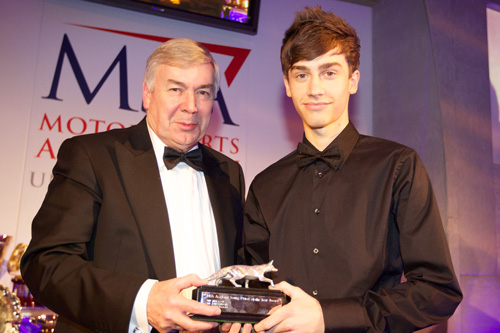 The rally world clearly believes Ingram has a shot at seeing their levels of success with Ingram being named MSA Young Driver of the Year last year. So what are his goals for the immediate future?
" My plan is to gain lots of experience and speed on some very difficult rallies and to compete in my first European and World Championship events. So far it has gone exactly to plan despite some bad luck at the start of the year….."
Ingram's next event is the notorious Rallye Mont Blanc with over 200 kilometres of death defying mountain roads. Ingram is hopeful of success.
"The competition and pace in the French championship is really intense, with the current best rally drivers in the world all coming to France. This sets a great benchmark for me and I hope to get on the podium and snatch the prize money the Renault Twingo R2 Trophy has to offer."
So when he is not driving hair-raising rally events around the world, how does he get on with road legal driving? Despite his considerable years behind the wheel, he has only had his driving license a matter of months. He admits to taking a couple of lessons to 'slow him down a bit' which is good news for other road users.
Getting from A to B Ingram chooses a Renault Clio Sport 182 although " It can't compare to my Renault Twingo R2, it really is a beast in disguise!"