On Thursday the 3rd of November two Vospers Renault Sport representatives visited the Renault F1 factory at Enstone, based in Oxfordshire. Scott Evens, Renault Sales, and Greg Reeves, Renault Aftersales Specialist, were invited to take part in the Renault Sport Brand training day which involved an exclusive factory tour, technical training and a pit stop challenge! The main focus of the day was to share knowledge and expertise, and specifically provide technical training on the Renault Clio RS and the Renault Megane GT. Vospers Renault is 1 of 26 Renault Sport dealerships in the UK and the only Renault Sport dealership in the South West. The factory tour included an incredible display of F1 cars past and present and delved into the history of the original Lotus F1 factory.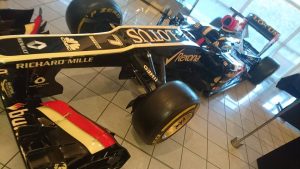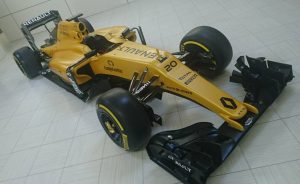 Also on show were past trophies and the Renault F1 racing suit.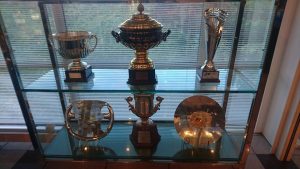 The pit stop challenge mimicked the usual tasks a F1 technician team faces including the changing of a F1 tyre. Each team from the various dealerships had a go at beating the fastest time set by a F1 team to change 1 tyre which is 1.47 seconds. The Vospers Renault Sport team raced their way to victory by beating everyone else with a time of 1.65 seconds! The fastest time the Renault Sport factory has seen by any non-professional! An incredible day and experience for the Vospers Renault Sport team, the icing on the cake for them was meeting current Renault F1 driver Kevin Magnussen. Scott and Greg are very happy to have attended on the day, 'we enjoy being valued members of the Renault Sport team and feel they really take on our feedback, the same way we take in their expertise and knowledge. A comprehensive understanding is something we can relay back to our customers to ensure they are getting exactly what they are looking for'.