Here at Vospers blog we've been loving the arrival of the Mazda MX5 in Devon and Cornwall and were particularly inspired by Mazda's quirky viral video showcasing the car in a whacky game of Frisbee. We set about tracking down one of the stars of the video, performance driver Paul Swift, to find out more about his car crazy life.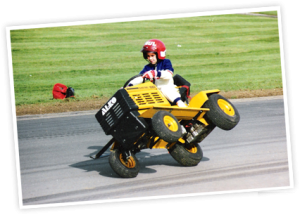 Like many of the world's great performance and stunt drivers, Paul Swift was keen on cars practically from the cradle. His father was a stunt driver so naturally he wanted to get his own slice of the action – aged just 7! Far from cutting his teeth in a top of the range sports car, this young stunt wannabe took to a ride-on lawn mower. With the help of his dad he set about learning to drive the mower on two wheels.  A very modest Swift makes the achievement of his first world record sound very easy;
" It wasn't long before the local news got word of my lawn mower antics  and asked me to set a record. I managed to get over 200 metres on two wheels."
Swift's father might have been a stunt driver but it was one of his competitors in the motorsports field that he credits with really helping him hone his skills behind the wheel. He attributes his win of the British auto-testing championship to Ken Irwin, Irish motorsports legend and champion 'auto-testing' driver of the 80s.
Swift continued to participate in motorsports for many years but it wasn't until 2002 that he finally gave up the day job as a fitter and toolmaker for an engineering firm. That year he and his father performed alongside each other at the British Motor Show in Birmingham and taking part in this meant sacrificing his day job…"Thankfully some ten years later I can safely say it was the right decision."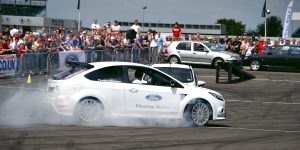 Precision driving is now very much his day job and a successful one at that. He has travelled the world driving in TV ads and shows. The best known of his 'gigs' is probably his work on TV's Top Gear which sees him playing football in cars or performing awe inspiring drifts.  We're lucky to have caught him for a chat in fact as he's currently touring the world thrilling the crowds at the Top Gear Live show. Not bad for someone who started his career on a lawn mower!
His work has seen him re-enacting the Italian Job antics as part of the Olympics build up as well as achieving a new world record recently for the highest number of cars donutting simultaneously (it was 29 by the way). Even more recently Swift and his team put Ant and Dec through their paces in Ford Fiesta STs during a daring performance display to promote the new series of Britain's Got Talent:
[youtube id="JqmuQvn6sik" width="600″ height="350″]
Down here in Cornwall and Devon Mazda fans have been enjoying Swift's work recently too in a viral video for the new MX5. Swift confesses he has plenty of experience behind the wheel of the Mazda MX5 so it didn't present too huge a challenge. He explains;
"We've used the Mazda MX5's before on Top Gear and they are very easy to get to grips with…."
Swift and co-driver Gordon Clendinning joined a pair of British Frisbee champions for a rather unique game of Frisbee and created a viral video that has already received almost half a million hits online.
Like many car fanatics one car isn't enough for Swift and among his collection for getting from A to B is a Ford Kuga and "a couple of MK1 and MK2 RS Escorts for when the weather is nice".  Oh to have the choice!
Here at Vospers blog we certainly hope to see Paul Swift on another viral video very soon promoting the brand new Mazda 3. Now let's see, how do you top Frisbee?
Find more information about Paul Swift Precision Driving at http://www.paulswift.com