They say that motorsport is in the blood and it certainly seems to be the case with Paige and Belle Wheeler, although unlike many of the world's motor-racing elite, they don't have a family background in the sport.
When Vospers blog caught up with them, Paige and Belle Wheeler were competing in NHRA Junior League Eastern Conference in the USA with 600 other junior drag racers.  It doesn't sound that incredible until you consider that the girls are just 14 and 9 years old respectively. At such a tender age, this incredible pair are utterly determined to make their mark on the world scene and they are well on their way.
The Wheeler girls' story began when Paige visited the Santa Pod Raceway for a fireworks display a few years ago.  During the event a small junior drag-racing showcase took place and in that moment Paige had the bug. She wanted to try the sport for herself. Fortunately, she had willing parents who eventually treated her to a tuition day at the Raceway. It wasn't long before she entered the FIA Easter Thunderball event and made it to the semi-finals and soon after she won the FIA European Finals. Despite not even being a teenager by now, Paige was driving drag racers reaching top speeds of over 80mph despite being half scale to an adult dragster.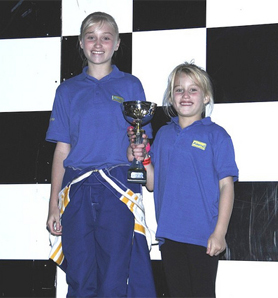 With Belle, Paige's younger sister, on the sidelines watching it wasn't long before she too wanted her slice of the action and the heat was most definitely on for the Wheelers. The girls have only found themselves competing in the same race once so far. And who won? The question on everyone's lips.  Belle fills us in.
"We are very competitive and we only ran against each other in one race. I won!."
While junior drag racing is relatively popular in the US, in the UK it is a little known sport. Although it is growing, in a typical competition the highest number of entrants might be around 36. Something the Wheelers would like to change although they're keen to point out that junior drag racing is one of the few motorsports where there is little difference in numbers by gender. In fact they believe girls will outnumber boys in the near future.
Not even out of school, the girls are experienced enough in motorsport to share their advice with other kids wanting to give it a try. "Do your research, spectate as much as you can, contact other people already involved in the sport for help and advice." Says Paige, while Belle adds "Be safe, relax and be confident in yourself. Practice loads and try to be the best you can be."
So what are their ultimate goals?
Paige sees herself driving a Pro Modified car professionally in the USA while Belle ultimately wants to be driving at 300mph in a Top Fuel Dragster. Somehow it's very easy to imagine that the girls will be doing just that. Paige is already the fastest 14 year old in the UK so there are plenty more records to break.