GAME-CHANGING FORD ECOBLUE DIESEL STARS AT HANNOVER; TRANSITS WITH NEW AUTO, AWD SYSTEM AND SYNC 3 REVEALED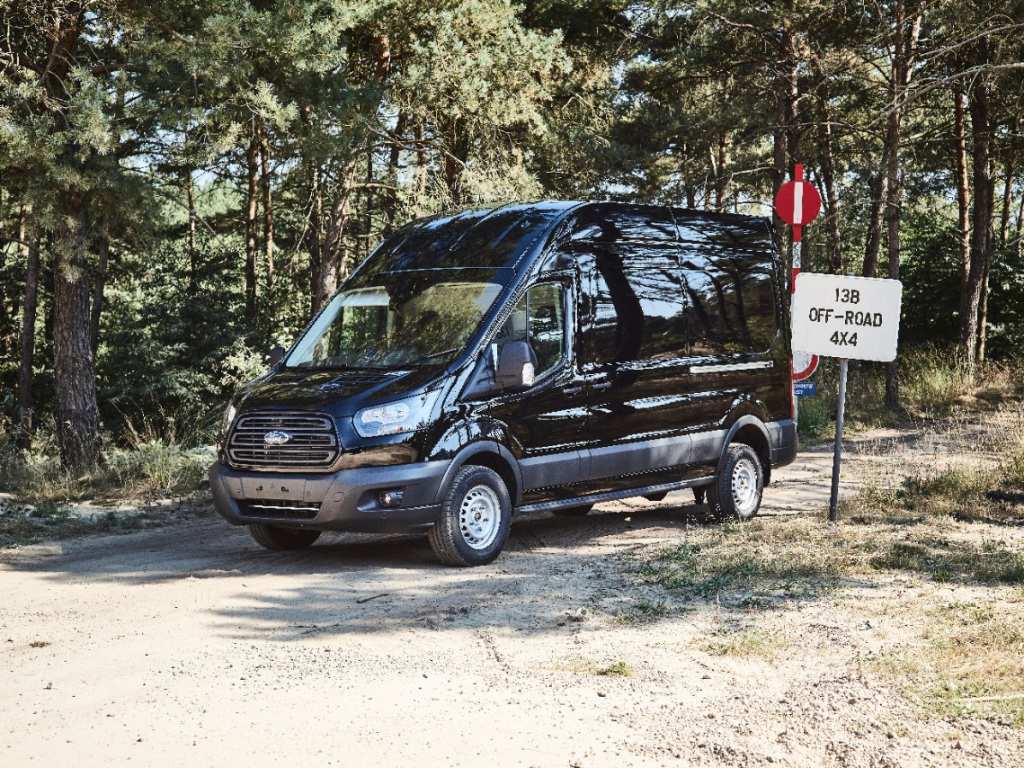 Ford presents latest Transit and Transit Custom line-up powered by state-of-the-art Ford EcoBlue diesel engine at 2016 IAA Hannover Commercial Vehicle Show
All-new EcoBlue diesel delivers significant cost of ownership and performance benefits with fuel efficiency improved by up to 13 per cent and low-end torque by 20 per cent
Show debut for new six-speed automatic in Transit and Transit Custom; Ford reveals enhanced all-wheel drive system and advanced SYNC 3 connectivity for Transit
Ford strengthens position as fastest-growing and No. 1 selling commercial vehicle brand in Europe, with sales up 18 per cent for August year-to-date
HANNOVER, Germany, Sept. 21, 2016 – The advanced all-new Ford EcoBlue diesel engine takes centre stage at the 2016 IAA Hannover Commercial Vehicle Show, delivering improved cost of ownership and performance in Ford's latest Transit and Transit Custom models.
The Ford EcoBlue engine powers every vehicle displayed on Ford's Hannover stand, and provides commercial vehicle operators with fuel efficiency improved by up to 13 per cent compared with the outgoing 2.2-litre TDCi engine, with CO2 emissions from 157 g/km,* and delivers significant improvements in low-rpm torque for enhanced driveability.
Hannover also marks the show debut for the new six-speed automatic transmission variant of the Transit and Transit Custom, and Ford revealed the introduction of an enhanced all-wheel drive (AWD) system and the new SYNC 3 communications system on Transit.
Two years on from completing the renewal of its Transit line-up at Hannover 2014, Ford is firmly established as Europe's fastest-growing commercial vehicle brand. Over the past 24 months, Ford has seen its market share grow from 10.8 to 12.9 per cent as it rose from fourth in the market to become the No. 1 selling brand.**
The growth in Ford commercial vehicle sales is continuing in 2016, with demand for the expanded four-model Transit family and Ranger pickup increasing by 18 per cent for August year-to-date compared with last year, with 208,000 vehicles sold.
"Ford's EcoBlue engine is a real diesel game changer, combining reduced cost of ownership with outstanding performance and cleaner emissions," said Bernhard Mattes, Chairman, Ford of Germany. "As our sales growth shows, Ford already offers the most advanced line-up of commercial vehicles in Europe, and the all-new Ford EcoBlue engine takes it to a new level."
All-new Ford EcoBlue diesel – cheaper to run, better to drive
The all-new 2.0-litre Ford EcoBlue diesel uses a completely new architecture engineered to provide the next-generation of clean, efficient and refined engines for future Ford cars and commercial vehicles.
The 2.0-litre engine has been developed with the latest turbocharging, fuel injection, combustion system, structural design and low-friction technologies to deliver significant improvements in fuel efficiency, performance and operating refinement, while delivering the outstanding durability and low cost-of-ownership demanded for a Transit power unit.
Available now in the latest Transit and Transit Custom models, the 2.0-litre Ford EcoBlue engine is offered in 105 PS, 130 PS and 170 PS power ratings, each of which offers increased power and torque compared with the outgoing 2.2-litre engine. Improved low-end pulling power – with 20 per cent more torque at 1,250 rpm – delivers more flexible and responsive performance in everyday driving.
Lower running costs are supported by significantly improved fuel efficiency. Transit van models equipped with optional Auto-Start-Stop achieve CO2 emissions from 174 g/km and average fuel consumption from 6.6 l/100 km (42.8 mpg) – a 10 per cent reduction over the equivalent outgoing model.
Transit Custom vehicles fitted with optional Auto-Start-Stop deliver CO2 emissions from 157 g/km with average fuel consumption from 6.1 l/100 km (46.3 mpg) – 13 per cent down from the equivalent outgoing model.
Ford anticipates a fuel cost saving of up to €1,600 (£1,250) over 130,000 km (80,000 miles) for the operator of a new 105 PS Transit Custom van compared with the previous 100 PS model.***
Scheduled maintenance costs are also reduced, with the extended variable service intervals of up to two years/60,000 km (37,000 miles) offering up to an additional 10,000 km (6,000 miles) between services on both Transit and Transit Custom models, intervals that are not exceeded by any competitor.
The Ford EcoBlue diesel engine has been engineered to meet Ford's rigorous commercial vehicle durability standards, powering Transit vehicles through the equivalent of 5.5 million km (3.4 million miles) of punishing durability testing, including 400,000 km (250,000 miles) of testing at the hands of real-world Transit customers.
Ford's Hannover stand reflects the huge variety of Transit and Transit Custom models available with the EcoBlue engine to suit all business needs, including a comprehensive offering of specialised body options and conversions ranging from tippers and refrigerated vans to minibuses and emergency vehicles.
Smooth-shifting six-speed automatic – specially engineered for Transits
Transit front-wheel drive and Transit Custom customers who require improved comfort and convenience in urban driving can now choose a six-speed SelectShift automatic transmission in place of the standard manual gearbox, for delivery in early 2017. The new transmission can be specified in combination with the 130 PS and 170 PS versions of the Ford EcoBlue engine, and Auto-Start-Stop is standard on all variants.
The transmission has been specially engineered for the Transit applications, including a new torque converter and external casing to optimise refinement, and is based on a highly durable design that has proven itself with powerful front-wheel drive vehicles in North America, with a torque capacity of more than 415 Nm.
A unique calibration ensures that the transmission is perfectly matched to the torque delivery of the Ford EcoBlue diesel engine, providing responsive performance together with excellent fuel economy, and CO2 emissions as low as 174 g/km on Transit Custom. The transmission can detect when the vehicle is on a road with a steep gradient, or carrying a heavy load, and adjusts the shifting strategy for optimal efficiency.
The electronically-controlled transmission delivers smooth and quick gear changes – with typical shift times of less than 0.5 seconds – and the SelectShift facility provides the option of manual shifting for enhanced control using a switch mounted on the side of the gear lever. The Auto-Start-Stop feature has been carefully tuned to suit the needs of commercial vehicle customers, with an on-demand electric pump to maintain transmission pressure so that the driver can pull away quickly as soon as the engine has re-started.
Transit intelligent AWD – lighter and more capable
Ford's intelligent AWD system for the Transit model has been re-engineered to deliver improved capabilities in combination with the all-new Ford EcoBlue diesel engine.
The new fourth generation Transit AWD system features an enhanced driveline design that combines the front differential and AWD coupling into a single, compact unit. This revised design reduces weight by 10 kg, and allows the driveline to be packaged more efficiently around the layout of the EcoBlue engine.
Ford engineers have also further optimised the calibration of the Electronic Stability Control and AWD control systems to provide improved traction and stability in all driving conditions.
In combination with the increased low-end torque of the EcoBlue engine, the latest generation system enables drivers to achieve smoother, more confident progress on challenging surfaces, enhancing the already class-leading traction and driving dynamics offered by the system.
The Transit AWD system automatically distributes available engine torque to front and rear wheels using a specially developed electronically-controlled AWD coupling, and can vary the front:rear torque distribution between 0:100 and 50:50. Two modes are provided, with the standard AWD Auto mode suitable for most driving situations, and an AWD Lock mode that enhances traction in more extreme driving situations such as deep sand or deep snow.
Transit AWD models can be specified with the 130 PS and 170 PS Ford EcoBlue engines, which deliver improved fuel efficiency with CO2 emissions from 224 g/km and average fuel consumption from 8.6 l/100 km (32.8 mpg) – an 11 per cent improvement compared with the outgoing model.
The AWD driveline option is available on a broad range of Transit van, kombi and chassis cab bodystyles, and will appeal to customers who frequently face slippery winter road surfaces and light duty off-road situations, such as service vehicles at ski resorts, utility companies in rural areas and maintenance engineers operating in all weather conditions. The new Transit AWD models can be ordered now for delivery in early 2017.
"I need fuel" – SYNC 3 communications system responds to simple voice commands
Ford's latest Transit, Transit Connect and Ranger models can now be specified with the new SYNC 3 communications system, which allows drivers to control their connected smartphones, audio, navigation, and climate functions (where fitted) with more conversational voice commands.
Simply by pushing a button and saying "I need fuel", "I need a coffee", or "find an address", drivers can locate nearby fuel stations, cafés, or the location of their next job. The system then guides the driver to the selected destination via the navigation.
SYNC 3 has a redesigned touchscreen that features larger, easier to operate buttons, and can be used just like a smartphone with pinch-to-zoom and swipe gestures. With a more powerful processor, the system also delivers faster and more responsive performance.
Designed to complement modern smartphones, SYNC 3 provides a powerful set of features for customers who use their vehicles as mobile offices, including phone calls using simple voice commands, audible text messages, and full compatibility with Apple CarPlay and Android Auto™ functions.
Using the integrated AppLink feature, customers can voice or touch control a wide range of popular apps from a connected Android or iOS smartphone, enabling them to access the latest weather forecast, music services or local parking information. AppLink also provides the opportunity for developers to create tailored apps driven by vehicle data, such as logistics or fleet optimisation tools, which could provide valuable benefits for larger business customers.
Unique OEM rear air suspension and new driver assist technologies
Ford's Transit Custom Kombi M1 and Tourneo Custom models are now available to order with a unique-to-segment rear air suspension system, for customer delivery in late 2016.
The system was developed specially for the passenger carrying variants of the Transit Custom vehicles, and meets Ford's full commercial vehicle durability standards. The suspension design features an air spring mounted on a trailing arm for each side of the vehicle, with an electronically-controlled air compressor to deliver the required spring rate for the two springs.
Height sensors on the trailing arms detect when the vehicle load changes, such as when passengers enter or leave the vehicle, and the air spring rates are automatically adjusted to suit the new load condition and maintain a level ride height. The air springs, including the profiling of their internal core, are custom designed for the vehicle, with extensive tuning by Ford dynamics specialists to achieve the desired ride characteristics.
The air suspension system is ideal for applications like shuttle and executive travel businesses where loading in the rear of the vehicle can vary by as much as 1 tonne depending on the quantity of passengers and luggage. The system enables the vehicle to deliver a supple, controlled and level ride across a wide range of load conditions, providing improved passenger comfort and vehicle dynamics.
The new Transit and Transit Custom models with the Ford EcoBlue engine also benefit from advanced new driver assistance and vehicle technologies to enhance confidence and comfort behind the wheel.
These include the Pre-Collision Assist emergency braking system – the first in the segment to feature Pedestrian Detection technology – that reduces the severity of some frontal collisions involving vehicles and pedestrians, or helps drivers avoid some impacts altogether.
An upgraded Electronic Stability Control system is fitted to both new models as standard equipment, and provides an enhanced suite of functions to improve vehicle stability in extreme driving situations including Side Wind Stabilisation – a new system that applies the brakes on one side of the vehicle to reduce the effect of a sudden side wind gust on the vehicle's path.