Ford today unveiled the all-new Fiesta Van and new connectivity technologies that will strengthen the company's market leading position in the European commercial vehicle market, at the 2018 CV Show in Birmingham, U.K.
Joining the latest generation of Ford Transit commercial vehicles – including the new Transit Custom, Transit Connect and Transit Courier models – the Fiesta Van marks the company's return to the urban hatchback van market with a class-leading new offering.
The all-new Fiesta van and new Transit Connect are the first commercial vehicles in Europe to enhance productivity and convenience for businesses using new FordPass Connect on-board modem technology.
"Connected commercial vehicles will provide exciting new opportunities to create value for our customers, and what we are showing in Birmingham is just the beginning," said Hans Schep, general manager Commercial Vehicles, Ford of Europe. "Supported by our strongest ever vehicle range, Ford is committed to delivering the most efficient solutions to transport goods and people in our cities."
Further highlights at the CV Show included innovative solutions for urban transportation with a Transit Custom plug-in hybrid from the London fleet trial, and a digital service concept for more efficient last-mile delivery. Ford also revealed the distinctive new Ranger Wildtrak X model.
Ford has been the top-selling commercial vehicle brand in Europe for the past three years, and has consolidated its leadership position so far in 2018, with 93,200 sold year to date through the end of March, marking the highest first quarter for Ford commercial vehicle sales since 1993.*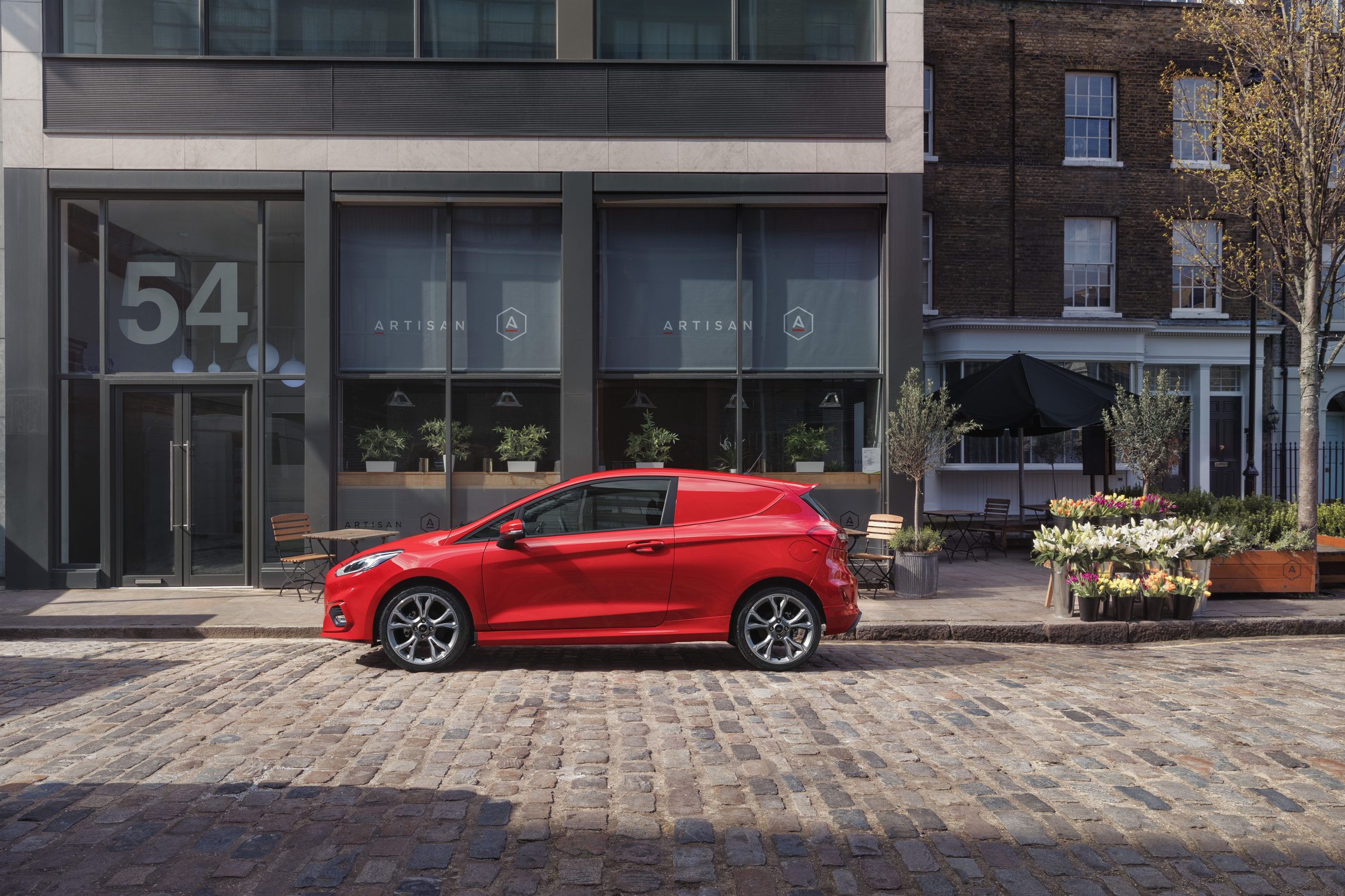 Stylish, compact and economical – all-new Fiesta Van
Responding to strong customer demand, the Fiesta Van returns to the Ford commercial vehicle line-up later in 2018. Based on the latest multi-award-winning Fiesta passenger car, the all-new Fiesta Van provides a stylish, compact and economical vehicle for businesses of all sizes.
The new model is powered by a choice of highly fuel efficient powertrains, with two petrol engines – 1.1-litre 3-cylinder with 85 PS, and 1.0-litre EcoBoost with 125 PS – and a 1.5-litre TDCi diesel engine in a choice of 85 PS and 120 PS outputs.**
Inside the three-door body, there is a practical load compartment capable of carrying approximately 1.0 cubic metre of cargo with a load length of almost 1.3 metres, and gross payload of around 500 kg. The load space features a composite and mesh full bulkhead, durable sidewall trim, and a tough rubber floor covering with four tie-down hooks.
The all-new Fiesta Van's cabin provides a smart and comfortable working environment, trimmed with attractive, hard-wearing materials, and providing the latest interior technologies including Ford's SYNC 3 communications and entertainment system.
Compatible with Apple CarPlay and Android Auto™, the SYNC 3 system can be specified as an option, and comes with a floating, tablet-inspired 8-inch colour touchscreen. Using the Ford SYNC AppLink feature, drivers are able to access a wide range of key apps from their smartphone using the large display in the vehicle, now including the popular Waze traffic app and Cisco WebEx.
Business customers also benefit from the convenience and efficiency delivered by the new FordPass Connect on-board modem for connectivity on the move.
Like the Fiesta passenger car, an unprecedented range of driver assistance technologies can be specified to enhance the Fiesta Van's comfort, convenience and safety, including Ford's PreCollision Assist with Pedestrian Detection emergency braking system, Adaptive Cruise Control and Blind Spot Information System.
The comprehensive suite of technologies helps urban van drivers overcome typical daily challenges, such as Active Park Assist with Perpendicular Parking and Cross Traffic Alert to support easy and safe parking, plus Traffic Sign Recognition and Adjustable Speed Limiter to help avoid speeding fines.
For customers wanting the ultimate in sporting style for their business, the all-new Fiesta Van is available as a Sport model, with unique front and rear design treatment, colour-coded rocker panels, and up to 18-inch alloy wheels. The sporting theme continues inside the cabin, with revised seats and trim materials, plus unique steering wheel, pedals and gear lever; Adjustable Speed Limiter and Lane Keeping System are fitted as standard.
All-new Fiesta Van will be available to order this spring, for customer delivery in the Autumn.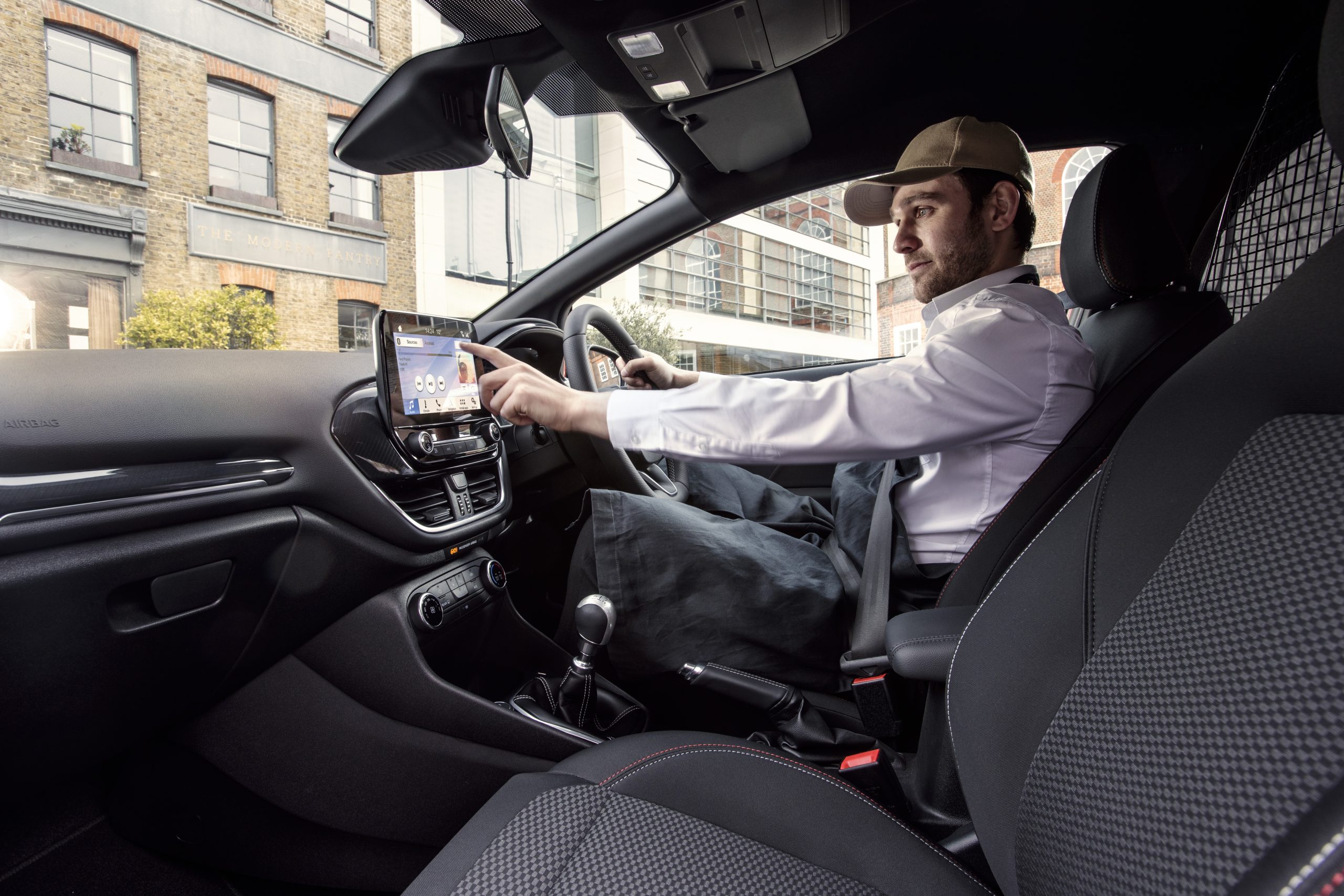 Connected CVs introduced with FordPass Connect
As part of the strategy to expand cellular-based connectivity across its product lineup, Ford is announcing its first European commercial vehicles to offer FordPass Connect on-board modem technology.
Launched on the new Transit Connect and all-new Fiesta Van, FordPass Connect enables business users to interact with their vehicles like never before, turning them into mobile Wi-Fi hotspots with connectivity for up to 10 Wi-Fi enabled devices, and helping drivers plan faster, less stressful journeys with Live Traffic updates for the SYNC 3 navigation system.
In addition, FordPass Connect allows a range of features via the FordPass mobile app to make the vehicle ownership experience easier and more productive, including:
Vehicle Health Alerts, advising when service action may be needed, such as low oil life, failed bulbs, or other vehicle alerts
Vehicle Status, for checking fuel levels, alarm status, tyre pressures and more
Door Lock and Unlock, to remotely secure the vehicle and its load compartment
Vehicle Locator, helping drivers find their vehicle in busy car parks or work locations
The FordPass app is flexible, so that businesses with more than one vehicle can conveniently interact with their connected vehicles using a single FordPass account, or via multiple accounts.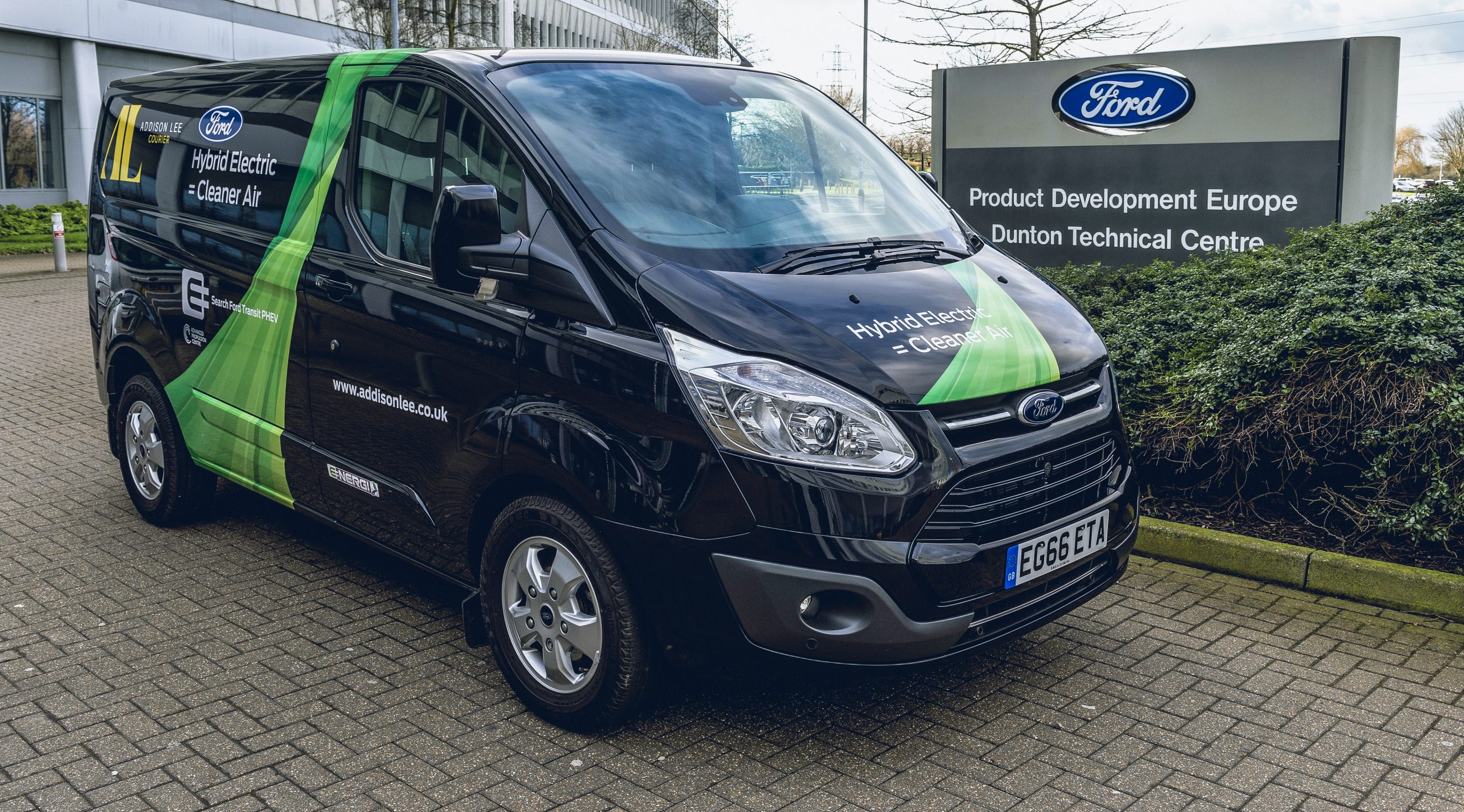 Innovative solutions for urban goods transportation
The Ford CV Show stand highlights the company's innovative approach to urban goods transportation, pioneering new solutions to help tackle the challenges of inner city air quality and congestion.
On display in Birmingham is one of the plug-in hybrid electric (PHEV) Transit Custom vans currently participating in a 12-month fleet customer trial in London, which is exploring how the hybrid vans can contribute to cleaner air targets and enhanced productivity in city use.
The PHEV Transit – operated by Transport for London, which is supporting the fleet trial project – has an advanced hybrid system that targets a zero-emission range exceeding 50 kilometres (31 miles), and features the multi-award winning Ford EcoBoost 1.0-litre petrol engine as a range extender. The test vehicle features an advanced telematics system that is delivering real-time data on the van's performance.
In total, 20 PHEV Transits will be running in the trial, working in a cross-section of city-based businesses. The vehicles are equipped with geofencing technology, which is capable of automatically modifying vehicle settings based on each van's current location.
Development of the fleet trial vehicles has been supported by a £4.7 million grant from the U.K. Government-funded Advanced Propulsion Centre. This has enabled Ford, working with its partners at Prodrive Advanced Technology and Revolve Technologies, to place the pilot vehicles with real world fleets at a much earlier stage, so that customer feedback can be used to help fine tune the Transit Custom PHEV ahead of volume production in 2019.
Also on display is a digital service concept aimed at commercial fleet operators delivering goods and services in cities. The service uses a multi-modal approach to connect van fleets with bike couriers and walking porters in the city to help increase the efficiency and speed of last-mile deliveries. Ford is looking to build a roster of fleet partners to work with on trialling it in London later in the year.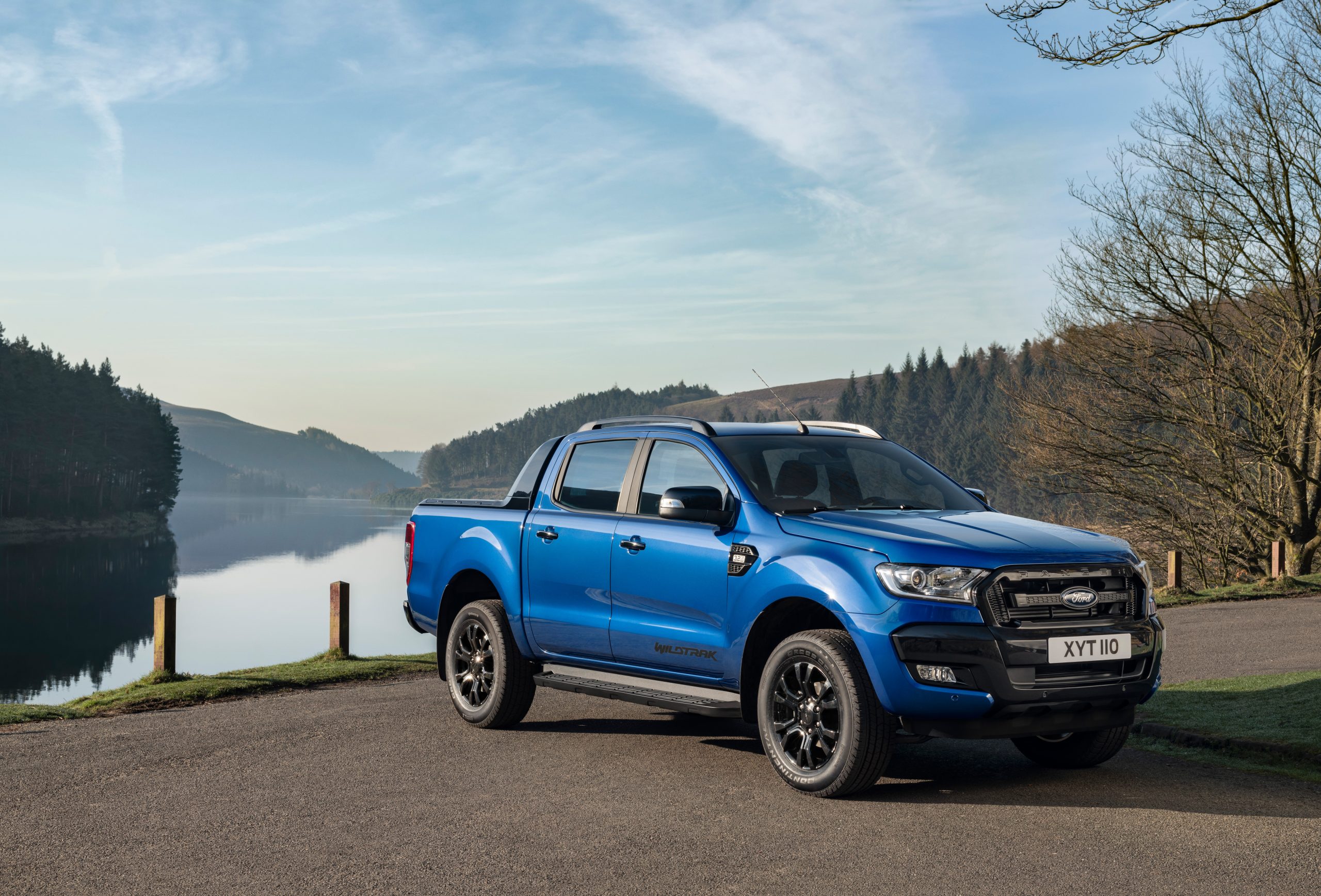 Desirable new Ranger Wildtrak X
Following the sales success of the exclusive Black Edition model, Ford is introducing a new special version of the Ranger, which is Europe's top selling pickup.*
The new Ranger Wildtrak X makes its debut at the show, with distinctive external and internal features. The exterior treatment features Performance Blue metallic paint, available on the flagship Wildtrak for the first time, along with a distinctive black finish to details such as the radiator grille, sport bar, roof rails, side steps, alloy wheels and Wildtrak decals, as well as to the standard roll and lock load-bed cover.
On the interior, the premium cabin features black full-leather seats, with stylish contrast stitching in River Rock grey. The Wildtrak X will be offered in Double Cab bodystyle, powered by the Ranger's powerful 200 PS 3.2-litre TDCi diesel engine with six-speed automatic transmission and 4×4 driveline, offering 8.8 l/100 km fuel efficiency and 231 g/km CO2 emissions.*** Vehicles are available to order from Ford dealers now for delivery in August.
Android and Android Auto are trademarks of Google Inc.
FordPass Connect is an optional extra. The on-board modem will be connected at the time of vehicle delivery.  You may choose to opt in/opt out of certain data sharing. The technology will be made available in selected markets in 2018, with the remaining markets following through 2019.
Live Traffic access is complimentary for the first 2 years following the purchase of a new Ford featuring SYNC 3 with navigation; thereafter a licence fee is payable. Wi-Fi Hotspot (up to 4G) includes complimentary wireless data trial that begins at time of activation and expires at the end of 3 months or when 3GB of data is used, whichever comes first. Afterwards a subscription to Vodafone is required, refer to their website for detail of their data packages. To take advantage of the built-in Wi-Fi hotspot capability, a 2018 Ford vehicle must come with the appropriate hardware, and a data plan is required. Data coverage and service is not available everywhere and terms of your data plan, including applicable message and data rates, may apply.
*The Euro 20 markets are: Austria, Belgium, Britain, Czech Republic, Denmark, Finland, France, Germany, Greece, Hungary, Ireland, Italy, Netherlands, Norway, Poland, Portugal, Spain, Romania, Sweden and Switzerland.
**Officially homologated fuel-efficiency and CO2 emission figures will be published closer to on-sale date.
***The declared Fuel/Energy Consumptions, CO2 emissions and electric range are measured according to the technical requirements and specifications of the European Regulations (EC) 715/2007 and (EC) 692/2008 as last amended. Fuel consumption and CO2 emissions are specified for a vehicle variant and not for a single car. The applied standard test procedure enables comparison between different vehicle types and different manufacturers. In addition to the fuel-efficiency of a car, driving behaviour as well as other non-technical factors play a role in determining a car's fuel/energy consumption, CO2 emissions and electric range. CO2 is the main greenhouse gas responsible for global warming.