The Most Demanding Ateca for the Most Demanding Drivers
SEAT demonstrates the enormous possibilities of the Ateca family with the Ateca X-Perience
SEAT Ateca X-Perience combines versatility, technology and design, with the ability to overcome any obstacle to reach a final destination
Martorell/Paris – SEAT is set to present the Ateca X-Perience, together with a unique stand concept, bringing innovation to this year's Paris Motor Show. The Ateca X-Perience is a demonstration that SEAT can surpass any limit, with a different take on the conventional SUV. Normally, Ateca customers are urban, but this car has much more capacity to drive off-road than one might expect. With the Ateca X-Perience, emphasis is put on its most adventurous character, in order to create a type of all-terrain vehicle that is simply off-limits to other current SUVs.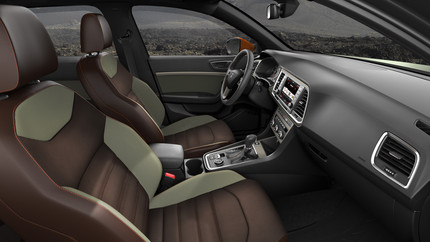 As soon as the driver pushes the start button, the Ateca X-Perience is ready for adventure, adapting itself to every driver situation, road condition and personal preference at any moment thanks to the Driving Experience drive selector located on the centre console. SEAT Drive Profile offers Normal, Sport, Eco and Individual modes, however, it's also possible to go a step further, thanks to the 4Drive traction control settings, provided by the efficient Haldex system, which includes two additional profiles for snow and off-road, as well as Hill Descent Control function.
"The X-Perience is an exercise to show the Ateca family's possibilities and potential in the future. We know that with the Ateca, we can go much further and it will be on display at the Paris Motor Show," said the SEAT Vice-president of R&D, Dr. Matthias Rabe. "With the Ateca X-Perience we can go beyond that which we already have in the series. It's for the customer that wants to go further, taking it to the extreme, for weekend adventures, and of course, off-road." 
Surpassing the Conventional Limits
The objective of the X-Perience is to underline the all-terrain characteristics of the SEAT Ateca. It considers those customers that, for either their hobbies, lifestyles or simply for their needs, seek the best off-road qualities from their car. Ateca drivers are likely to spend around 95% of their time on asphalt, with the remaining 5% off-road, or, on snow. However, with the X-Perience, that proportion will switch to become 75% normal use and 25% off-road.
It aims for the customer that, above all, is going to use the Ateca off-road, for those demanding SUV drivers that need excellent all-terrain qualities. In short, it is a car destined for those that consider asphalt a formality and for those to whom tracks and lanes remain small and insignificant. The interesting thing, the attractive thing and the challenge are beyond conventional limits.
An Inspired 4×4 Design
SEAT brings a piece of Barcelona to Paris, inspired by innovation, modernity, technology and design, all values shared by the French capital and of course, with the Ateca X-Perience. Wherever you might have to stop, the Ateca X-Perience can continue because of its high-profile tyres and bespoke 18-inch rims, black wheel arch mouldings, non-scratch paintwork and excellent ground clearance.
Evidently, as well as superior practical 4×4 capabilities, the Ateca X-Perience also boasts striking design."That's why we've chosen a typical 4×4 design style, starting with the wheel diameter and including high-profile tyres, going for a 4×4 look with the front bumpers, sump guard and fog light protectors,"explained SEAT Design director, Alejandro Mesonero-Romanos. "The colour has ended up being very important too. We've chosen olive green matt, a natural colour that's a little camouflaged, underlined with orange tones in the details that give it a more technical look."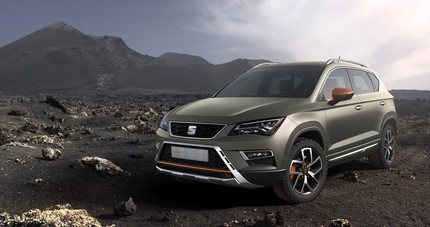 The exterior is completed with details such as chrome roof rails, a rear spoiler mounted at the top of the tailgate to bring out the car's sporty character and mud flaps mounted to the rear bumper with the 4Drive and X-Perience logos placed on the boot. Additionally, a front diffuser defines and protects the lower grille, which is repeated at the rear of the Ateca X-Perience.
Tones linked with those used on the exterior have been used in the interior too, which is illuminated by ambient-light LEDs for darker conditions. Earthy colours of coffee and green have been utilised, combining with orange stitching on the steering wheel, seats and the gear knob, to reinforce the car's technological nuances. Its sports seats are upholstered in suede leather, while the aluminium kickplates bear the X-Perience logo. The XP abbreviation is also present on the steering wheel. Completing its adventurous appeal are protective rubber floor mats, to combat mud and dirt, together with a chrome strip on the boot lip, just as the current Leon X-Perience has.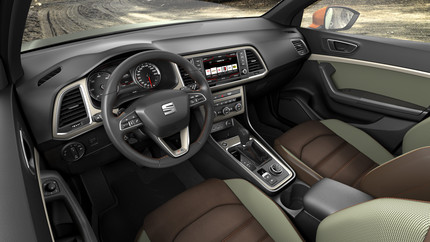 4Drive — Total Traction from a Powerful Engine
The SEAT Ateca X-Perience uses a 4Drive traction system. Thanks to the Haldex clutch system, the torque distribution between both axles is done in the most efficient way to ensure exceptional power delivery on terrain at any moment, even in tricky conditions. Furthermore, the advanced XDS traction control system ensures that each wheel seamlessly receives the necessary power to keep going.
SEAT's latest showcar is powered by the 2.0 TDI 190 PS engine, which is a pleasure to drive both on- and off-road. Boasting 400 Nm of torque and allied to a seven-speed paddle-shift DSG transmission, it not only guarantees outstanding performance and low fuel consumption and emissions, but it also allows the driver to enjoy the versatility and fun of the Ateca X-Perience, without having to move his or her hands away from the steering wheel to change gears. This is a safety and comfort benefit that is evident particularly when faced with challenging all-terrain conditions.
Safety and convenience without compromise
As in every adventure, unexpected things can happen. The Ateca X-Perience can take everything in its stride, thanks to one of the most complete range of driver assist systems in the class. For example, Traffic Jam Assist coordinates the work of the Lane Departure Warning Assist and the Adaptive Cruise Control (ACC) system. Front Assist works as an emergency brake that recognises vehicles and pedestrians, as well as the Traffic Sign Recognition System, with Blind Spot Detection and Rear Cross Traffic Alert, a 360-degree camera with birds-eye view, Park Assist for parallel parking or angle parking, High Beam Assist…the list goes on.
SEAT is aiming to be a front-runner in connectivity, and of course, the Ateca X-Perience is no slouch in that department. Constantly in touch with the digital world, it uses the latest generation of infotainment systems including Easy Connect, SEAT Full Link (which incorporates Apple Car Play and Android Auto functions), an eight-inch touchscreen Media System and Wireless Charger which allows the driver to charge smartphones without pesky cables.
The SEAT Ateca, which arrived in UK showrooms earlier this month, launches ahead of SEAT's next three new models due in 2017 and is capable of satisfying the off-roading needs of most drivers. Undoubtedly, many Ateca customers are trendsetters, with a young and restless spirit, looking for a car which suits their lifestyle. For them, the X-Perience endeavours to show that it is possible to go beyond the limits, that it is possible to enjoy a more adventurous Ateca: Created in Barcelona.