Ford's re-imagination of what a large full-battery van should be, the E-Transit, sets a fresh segment benchmark. If your business has been waiting for a large full-electric LCV that really adds up that time is now!
Background
Ford is amongst the last of the major LCV market players to bring a large EV to market, but the E-Transit has been worth the wait. The motor is from the Mustang Mach-E meaning the E-Transit has a class-leading driving range. This is in conjuction with proper car-like coil-sprung suspension and a price which undercuts some rivals by up to £10,000. What more could you want?
Ford E-Transit Driving Experience
The first thing to note is that there's a choice of two motors. Both derived from the one used in the Mustang Mach-E. The lower-powered unit offers 184PS: the higher one 269PS, a great deal more than any other van on sale.
The 68kWh battery pack from the Mustang Mach-E is also featured in the E-Transit, offering a combined and class-leading range of 197 miles. The drive motor at the back of the vehicle, which lead to a complete redevelopment of the rear suspension. Out went the combustion model's leaf springs and live axle and in its place are more car-like coil springs and independent suspension.
As you would expect, there's single-speed EV auto transmission with a selectable 'L' setting for greater brake regeneration. There are also three driving modes – 'Normal', 'Eco' and 'Slippery'. There's also an 'on-board driving coach'. The coach takes the form of a percentage display on the centre screen but can also give vocal instructions.
The handling has also been improved for the E-Transit. This is because the battery pack beneath the load floor lowers the unloaded centre of gravity by about a foot. Helping traction out of corners and roundabouts.
Ford E-Transit Market and Model
The E-Transit is priced from around £49,000 with two trim levels on offer. A choice between the base model 'Leader' and the plusher 'Trend'. Think about this in comparison to a price premium of around £5,000 for an equivalently-specified 'EcoBlue Hybrid' manual diesel model. Or around £5,000 for an equivalent conventional diesel 130PS auto variant.
The E-Transit is far more powerful than these two alternatives. Boasting a premium of around £1,150 to go from the 184PS version to the faster 269PS variant. Both trim levels offer significantly higher specifications than the equivalent diesel model. 'Leader' spec also gets you Electronic Air Temperature Control, Keyless Start, heated seats, a Quickclear windscreen and heated power mirrors.
The E-Transit introduces the 'SYNC 4' communications and information system to Ford's commercial vehicle range in Europe. The SYNC 4 system offers twice the computing power of the old 'SYNC 3' system and controlled via a 12-inch touchscreen. 'Trend' spec adds 'Ford Connected' navigation, which can assist you in planning the most efficient routes as well as giving updates to drivers regarding charging, traffic and live parking availability.
There's also an 'Intelligent Range' system that offers a more accurate distance-to-empty figure. Enhanced voice control and embedded Amazon Alexa 6 features help drivers receive the information they need without taking their eyes from the road. In addition, all E-Transits feature a standard FordPass Connect modem 7, enabling always-on connectivity.
Available drive assist technologies include PreCollision Assist with Pedestrian Detection, Intelligent Adaptive Cruise Control with Traffic Sign Recognition, a Blind Spot Information System with Lane Change Warning & Aid, Lane Departure Warning, a Lane-Keeping Aid, and Junction Assist. There's also a Reverse Brake Assist system which uses a camera and sensors to detect pedestrians, cyclists, and static obstacles when reversing. It can deliver a warning before automatically stopping the vehicle.
Ford E-Transit Practicalities & Cost
Payload is often a topic of interest with large scale electric vans as the pre-existing options have been somehwazt lacking in this area. With the E-Transit this isn't a problem as it features a payload of up to 1,758 KG.
There are 25 different versions available including: van, double-cab-in-van and chassis cab body styles, with multiple lengths and roof heights, as well as GVMs from 3.5 to 4.25 tonnes. The load capacity is unaffected by the EV powertrain installation and you get the same choice of body styles. That means three wheelbase lengths (L2, L3 and L4) and two roof heights (H2 and H3). Capacity varies between 10.7m3 and 15.1m3.
When it comes to running costs there are significant fuel cost savings. Ford estimates that service maintenance and repair costs will be up to 40% lower than it's diesel-powered counterparts. The brand also stipulates that the E-Transit has the lowest costs on the UK market in comparison to their direct competitors.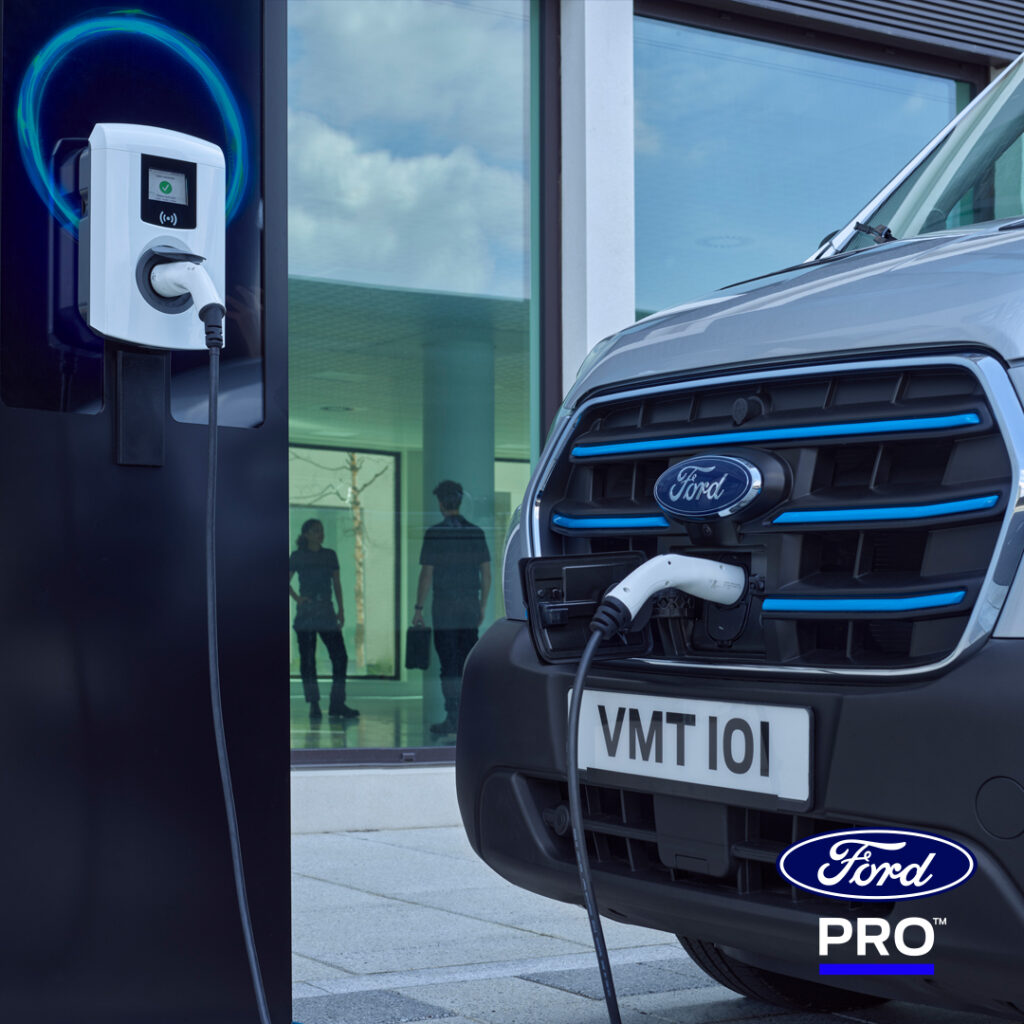 The brand's 'Ford Pro' LCV network offers a one year, unlimited mileage service interval and an eight year, 100,000-mile warranty for all high-voltage electric components. This includes cover for excessive degradation, as well as a one year electric vehicle roadside assistance package and rescue charging. The pan-European Ford Pro Service network is EV-ready with 1,500 EV Certified Dealers across Europe, and over 4,500 Authorised Repairers who all have service capability.
Summary
Even if you don't want a Ford E-Transit, you can't disregard the significance of this vehicle. Imagine the sheer amount of deliveries in large Transits each year. It's easy to see how this change will positively impact the environment by switching these vehicles to electric. This isn't just a significant step for Ford; it's a significant step for our transport system.
Rather than simply throwing an EV powertrain at an existing combustion model to get a product quickly to market, Ford has taken its time and ensured the job is was done properly. This 2-tonne Transit design might be familiar, but in many ways, this Electric version offers a deep dynamic redesign. If you are interested in the Ford E-Transit get in touch.