At Vospers we are proud to announce that we have raised a total of £6,271.00 in charitable donations in 2022. This is without mentioning the awareness and money raised by our individual staff!
"As a family business we are passionate about supporting our local communities, so I am extremely proud of our employees who continued fundraising despite the challenges of the pandemic." Peter Vosper
Our biggest charity event of the year had to be our annual golf day at Trevose Golf Club, which accounts for £3,600 of out total money raised. This money went to Cornwall Hospice, Peninsula Medical Foundation and St Luke's Hospice.
Penny Hannah, Head of Fundraising at St Luke's Hospice, said: "When we heard the news that we had been chosen as one of the charities benefitting from the funds raised at the Vospers golf day we were absolutely delighted.
Penny continued: "This kind and helpful donation will go a long way to supporting more local families at the most difficult time in their lives and when it matters most. From our friendly doctors, caring nurses through to all the support staff and hardworking volunteers we would like to pass on our sincere thanks to Peter Vosper and friends for their generosity and helping us during these challenging times."
Denis Wilkins from the Peninsula Medical Foundation also talked about what the donation from Vospers will be used for, he said: "The money raised will help fund research by Professor Hanneman's Brain Tumour Research team in Plymouth, which is being applied to the treatment of patients in Derriford's neurosurgical unit. Thank you Vospers and your generous supporters."
Giving back to the community is something that is highly valued at Vospers and we are proud of our staff and our company for dedicating so much of their time and money to raise money for a variety of noble causes. It is clear this work supports the hard work and dedication of those working for these charities.
Which Charities received our Charitable Donations?
There are a variety of charities that aim to support a variety of important causes, that we highly encourage you to support:
Staff Charitable Activities
A number of our staff have engaged in charitable events to raise funds and awareness for a number of important issues.
Sarah Pike a PDI Supervisor at Vospers has engaged in a number of charitable projects. This includes running the London Marathon to raise money for The Motor Neurone Disease Association.
As well as this three of our colleagues Krai, Darren and Callum, raised awareness for men's health by taking part in the Movember challenge.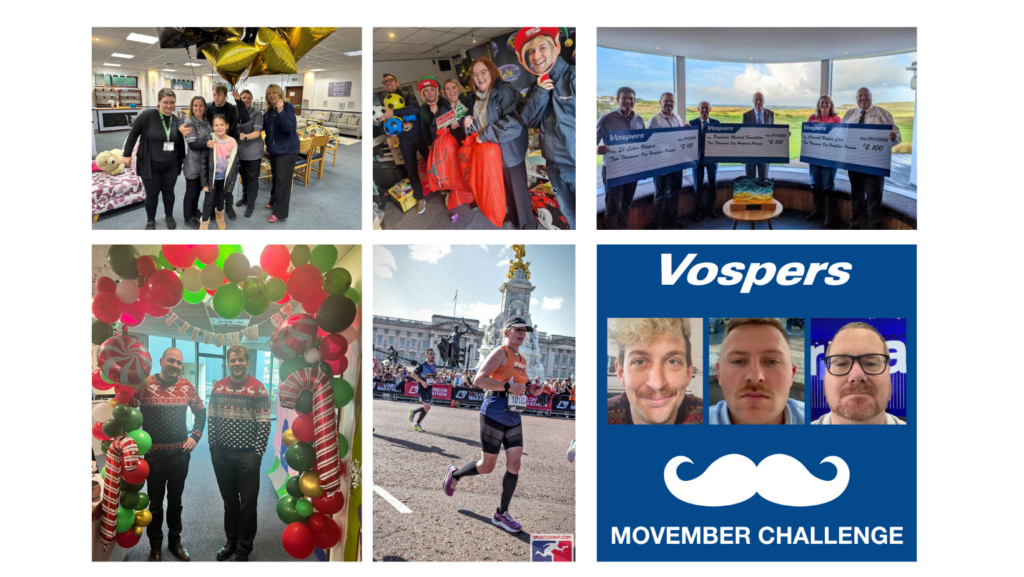 Coming up…
Harry, one of our Service Advisors is doing a Christmas swim on Monday 26 Dec 2022. He will be undergoing this swim to raise money for Cancer Research UK.
Cancer survival rates have doubled over the past 40 years. Consistent progress is being made in the fight against cancer. Improvements to technology and ground-breaking work offer new opportunities to find different ways to prevent, diagnose and treat cancer. Help Cancer Research UK improve results even faster.
Nick Vosper has agreed to provide a generous donation to support the Saltash Baptist Church in their mission to feed those in need with their Christmas Day Lunch. If you would like to support Saltash Baptist Church in their mission visit their website.