Last year Peugeot announced it would be adding the Peugeot E-308 to its line-up of all electric vehicles, they have now announced they could be ready to order as soon as October! The production of the E-308 began in July and Peugeot have begun to notify dealerships that they are almost ready to launch the latest edition to their electrified range. Let's have a look at what we have to look forward to upon its release.
Versions & Specifications
There will be a range of model options available for the E-308 which will have varying specifications, however, there are a number of specs across all model versions.
The most notable and perhaps obvious is that for the first time the 308 will have a fully electric powertrain. This powertrain has a 54kWh traction battery, 156hp (115kW) electric motor and has a range of up to 257 miles. Not only this but the battery will come with an 8 year or 100,000-mile warranty.
The Peugeot E-308 will feature updated exterior styling elements, these include:
18" 'Elektra' Diamond Cut Alloy Wheels
An exclusive design for E-308, standard on Allure, GT and FIRST EDITION
Distinctive 'E-308' badging, note capital 'E' for E-308
Moving on to the interior specs, the E-308 will come with heated front seats, a heated steering wheel and a 11kW on-board charger as standard. The GT and First Edition variants of this model will also don a 3D quartz instrument panel.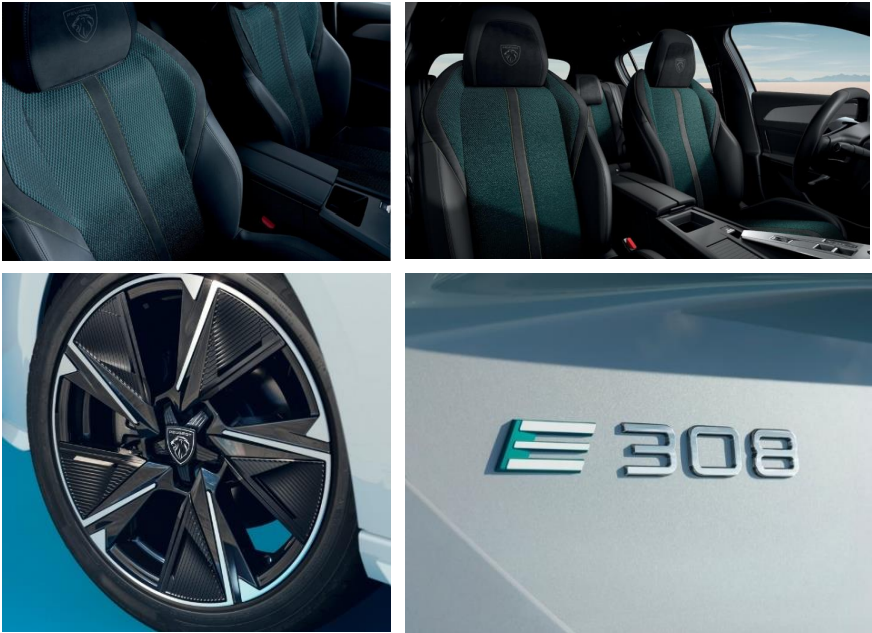 Peugeot E-308 Model Variants
There will be 4 variants of the E-308 available upon the launch of this vehicle:
The Allure variant can come with either metallic or premium paint, as well as the access pack. The access pack gives you access to Peugeot Open & Go and wireless charging for your smartphone. It will also include Peugeot SOS & Assistance.
The GT variant again comes with the option of metallic or premium paint but instead of the access pack the GT comes with the driver and passenger seat pack. As well as this the GT features an opening glass roof with an interior blind.
The Peugeot E-308 First Edition
This is where it gets a little more exciting. To celebrate the launch of the Peugeot E-308 Hatchback, a limited volume 'FIRST EDITION' trim will be available. This variant will be based on the GT variant but will feature an exclusive interior.
The new interior consists of a 'Belomka Evo' Tri-Material Blue woven cloth with 'Isabella' leather effect
and Mistral Alcantara. This bold and expressive interior also features the Peugeot Shield on the front
headrests. As well as this, the E-308 FIRST EDITION is available in a choice of three Metallic Paint finishes including Olivine Green as standard, as well as Okenite White and Selenium Grey being available as an option priced at £650 including VAT.
Summary
The all-new, all-electric Peugeot E-308 that was announced last year could be ready to order as soon as October. It will be available in 3 varieties; Allure, GT and the limited release First Edition. If you would like to stay updated about the release of the E-308 follow either our Plymouth or Torquay Peugeot Facebook pages. If you want to learn more about the non-electric Peugeot 308 check out our review.