Vauxhall has been celebrating the launch of the New Astra Electric by commissioning British artist Iain Macarthur to create two Astra electric Murals. These two eye-catching murals are located in in London and Manchester and will be on display until 27th August. The murals capture Vauxhall's cutting edge design and elements of artistic expression that are featured within the brands line-up. As well as this, the collaboration with Iain Macarthur itself highlights the company's commitment to British design influences.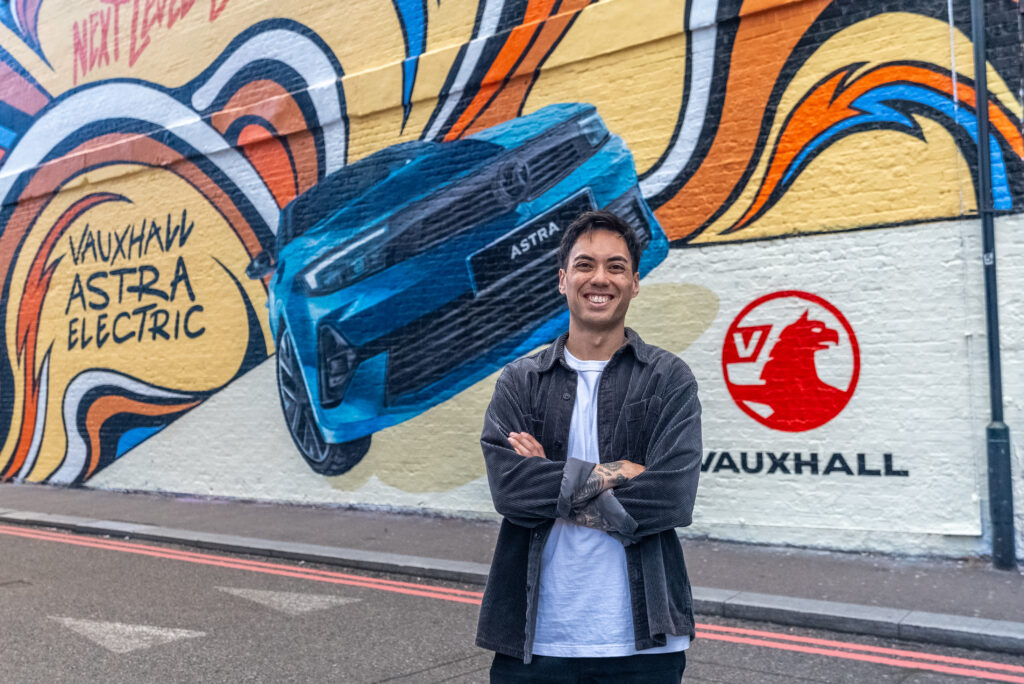 The murals, are on display in Shoreditch, London, and in the Northern Quarter in Manchester. Macarthur's unique and surrealist style is used to convey a vibrancy and dynamism. Reflecting both the high performance as well as the the Bold and Pure design language of the Astra Electric. This design philosophy won the Astra the prestigious Red Dot Award at the international design competition.
"I wanted to show the energy of the Astra by making the patterns look like they are made of electricity – having them flow throughout the design in a way that is visually striking and aligned to Vauxhall's bold and pure design language. It was a pleasure collaborating with Vauxhall, as they gave me creative freedom to express my vision of what clean energy would look like." Iain Macarthur, Artist.
The murals feature scannable QR codes, linking to an Astra Electric augmented reality experience. Vauxhall decided to partner with a British artist to celebrate its long-standing connection to British design and heritage.
Vauxhall Electrified
The Astra Electric features Vauxhall's next-generation 54kWh battery coupled with a 115kW (156hp) electric motor. This motor means the Astra is capable of up to 258 miles of range (WLTP) from a single charge. Vauxhall aims to have a fully electrified vehicle line-up available by 2024. They also plan to be an electric-only brand by 2028.
"This mural celebrates not only the launch of the exciting Astra Electric, but also our Bold and Pure design language which draws from the best of British art and innovation. I look forward to seeing Iain's work in person and thank him for being part of creating something the public can enjoy in London and Manchester." James Taylor, Managing Director, Vauxhall
If you want to know more about The Vauxhall Astra Electric check out our blog. Alternatively you can get in touch via our website.