From the SEAT 600 to a SEAT with 6 Airbags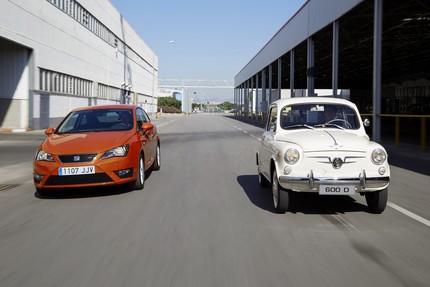 60 years of evolution
A look at the SEAT 600 and the SEAT Ibiza to compare how car safety has changed in 60 years
New brake systems, more elements of passive safety and chassis development are the most significant breakthroughs of recent decades 
The next step is to get cars to anticipate future events and try to prevent them
Martorell, 07/09/2016. – A lot can happen in 60 years, and when it comes to safety that's a long time for cars to evolve. In terms of safety, and several other topics, cars today bear little resemblance to those of yesteryear. To illustrate this we can compare a 1963 SEAT 600 D to the SEAT Ibiza FR with the following results:
– Airbags and headrests. "The SEAT 600 wasn't equipped with headrests," recalls Javier Luzón, head of Passive Safety at SEAT. This feature makes a significant contribution to preventing whiplash when the car is involved in a low speed collision from the rear. In addition, whereas some SEAT Ibizas have up to six airbags, the SEAT 600 had none, because that technology did not become widespread until the 90s.
– Seat belt. It was developed in the 60s. But in the beginning it was "an inextensible strap that users had to adjust to their body," explains Luzón. The difference today is that this element of passive safety adapts itself to the user's body and not the other way round. This provides more safety in the event of a collision, as the current seat belt system fits snugly on the body and retains the passenger instantly.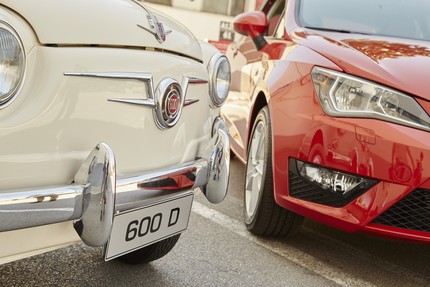 – Brakes. The brake system on both models is also completely different. The SEAT 600 was equipped with drum brakes "with much lower braking power than what can be achieved today," says Luzón. By contrast, current cars "have large diameter disc brakes," tyres are also much wider, "giving them more contact surface with the road for safer traction," and the cars feature ABS, a system that prevents cars from skidding out of control when braking.
– Chassis. A car's chassis is another fundamental component when it comes to safety, and its evolution over the past several decades can clearly be seen. One major difference is the greater width of the structures, such as the doors, which nowadays "have added safety features that give better protection than before in the event of a collision."
All in all, today's cars offer the highest level of passenger safety. "The next step we will soon see involves cars with the ability to anticipate future events and react accordingly," concludes Javier Luzón. This will be the beginning of a new era with technology that was unheard of at the time of the legendary 600.