Five bleary-eyed gamers each completed a mammoth two‑day stint at the wheel of a virtual Ford GT race car inForza Motorsport 6 to set a new GUINNESS WORLD RECORDS title for the "longest video marathon on a racing game".
Gamers Cara Scott, 25, from the U.K.; Hélène Cressot, from France; Johannes Knapp, 30, from Germany; Andrea Lorenzo Facchinetti, 42, from Italy; and Jesús Sicilia Sánchez, 23, from Spain, took on a simulated version of the La Sarthe circuit used for the Le Mans 24 Hours, where the real life Ford GT race car achieved a historic victory earlier this year.
Driving for 48 hours, 29 minutes and 21 seconds, and completing a combined 41,004 virtual kilometres and 3015 laps, the gamers survived on power naps, sweets and soft drinks as they broke the previous record of 48 hours 1 minute.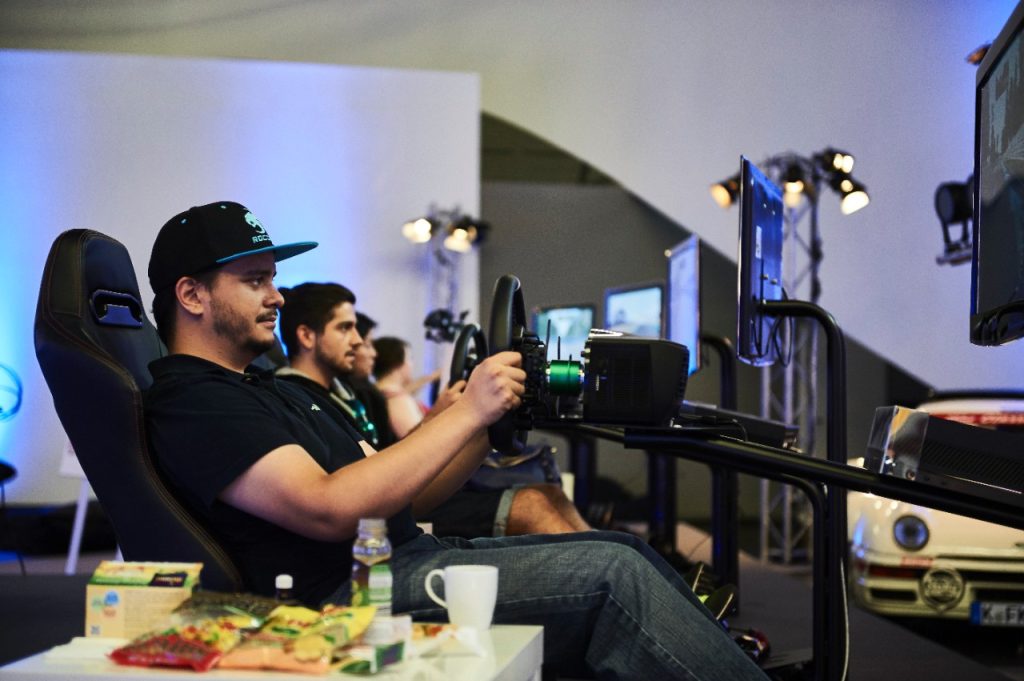 The GUINNESS WORLD RECORDS title was later presented on the Microsoft stand at Gamescom, Europe's biggest interactive games trade fair, in Cologne, Germany.
"They did an amazing job. Just like driving at the real Le Mans, this achievement required extreme levels of concentration, attention to detail, and most importantly endurance – because they had to keep going for twice as long as we did," said Ford Chip Ganassi Racing driver Stefan Mücke, who competes in the FIA World Endurance Championship in the Ford GT, and started the virtual race.
Compared with Mücke's 136 laps of Le Mans – completed during 9:05.40 hours of real world driving – the five gamers averaged 603 laps each over 48:29.21 hours of virtual driving during the challenge with Forza Motorsport 6 for Xbox One, at Ford's European headquarters, also in Cologne.
Their combined 41,004 kilometres is equivalent to driving once around the world. To stay awake for two nights straight, they drank 32 energy drinks, 146 bottles of water and 47 bottles of soft drinks, and consumed more than 3 kilograms of sweets.
"For me, it's incredible to see anyone stay up all night, whether it's for a bumper car marathon or four days of watching television," said Lena Kuhlmann, official adjudicator, GUINNESS WORLD RECORDS. "Two days of race gaming is a superlative effort. The endurance of the gamers is remarkable. They were engaged, concentrating and having fun even after the record was broken. It's also great to have the actual Ford GT in view, to keep the gamers from getting completely immersed in the virtual world."
Ford GT and Forza Motorsport 6
Ford engineers worked closely with Microsoft's Turn 10 Studios to ensure the virtual driving experience of the cars in Forza Motorsport 6 is as realistic as possible, from the look and feel of each vehicle to distinctive engine sounds and handling styles. With the Ford GT, certain performance aspects were first revealed through the game, such as the active rear wing, which automatically changes its angle in different conditions. The Ford GT is now one of the top five most raced cars in the game and has racked up almost 71 million kilometres – nearly as far as the distance from the Earth to Mercury, when at its closest.
Ford and Microsoft have combined forces again with Forza Racing Championship, the largest Forza racing competition in history. Open to elite gamers and aspiring amateurs, the championship, running until Sept. 4, will crown the best Forza player in the world, with the ultimate prize a brand new 2017 Ford Focus RS.