Now here at the Vospers blog we've been celebrating the arrival of the sporty Mazda MX-5. It's only served to fuel our love of motorsports still further. We were thrilled then when our old friend, John McCurdy, popped in for a chat to talk about his experiences with F1 and his recent trip to the Spanish Grand Prix.
John was formerly a member of the sponsorship team at Silverstone and now runs his own business organising travel and events for Grand Prix fans and brands all over the world. He certainly knows a thing about the glamorous world of motorsport. Here's what he had to say….
Tell us about your experience in motorsports, including Formula 1
I have worked in and around Formula 1 for a number of years. First at Silverstone Circuit – managing their Sponsorship and Licensing department – helping to promote the British Grand Prix each year to a sell-out crowd of 300,000; then more recently having set up my own business in the World of Motorsports marketing, communications and events.
The last few years have seen me travel the world with F1 and other varied motorsport series like GT Sports Cars, World Rally and British Touring cars. I have been involved in creating exciting events such as the F1 Rocks After-Party and the Grand Prix Ball in London.
So you recently spent a weekend working at the Spanish Grand Prix. How did that go?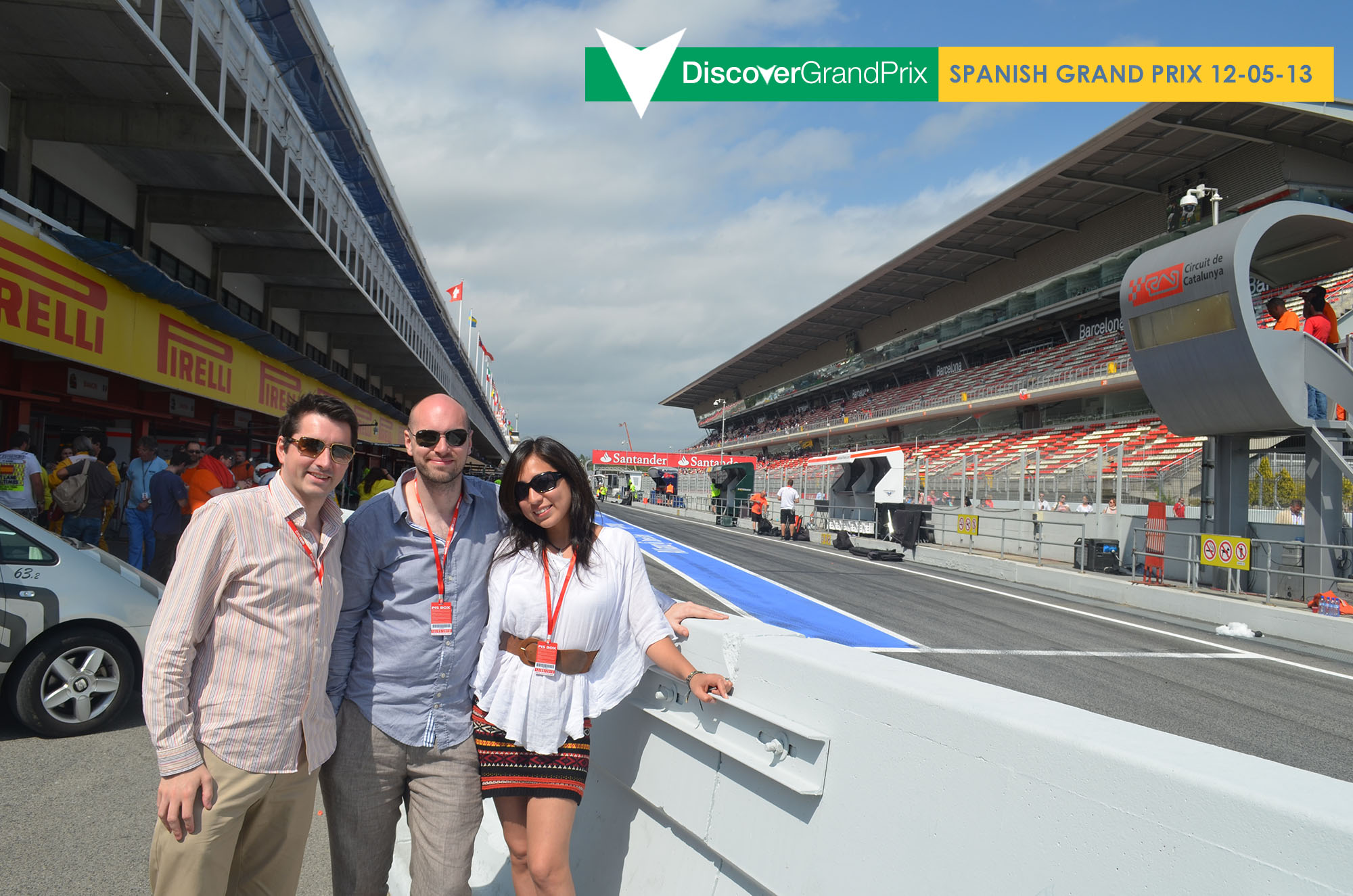 It turned out to be a fantastic weekend of weather, culture and racing. The build-up was manic. Confirming hotels, flights details, Formula 1 tickets, VIP passes, and most importantly VIP party passes for the Sunday night. By this point, you [the reader] already and probably think it is all about parties with the rich and glamorous folk of Formula 1.
I would love to tell you that this is always the case but this time we were in the fortunate position of having a good friend organising the only F1 party in Barcelona. It is also one of those great opportunities to unwind after an incredibly frantic and often stressful weekend of F1.
How about the racing?
This weekend the Discover Grand Prix team were guests of the Circuit De Catalunya and from there we took up the great vantage point overlooking the pit lane. Just before qualifying began the team had to go into the Formula 1 paddock (a strictly controlled area, only for teams, drivers and invited guests. It is genuinely money can't buy access,) where we had arranged meetings with a number of F1 teams. One of the F1 teams we met with has some very exciting plans lined up and hopefully we will be able to announce something later in the summer about these plans. Back in the hospitality area and it was time for qualifying. One of our team had never seen F1 in action before and so to experience the noise and vibrancy so close was something she will likely never forget. If you haven't seen Formula 1 cars, they are something else. Deafeningly beautiful in all senses.
Sunday was race day and we took the train to the circuit. There was only one word to describe the experience in-fact. Sauna. With the windows steaming up, and the race goers visibly dripping it was more than a relief to get off at Montmelo and stroll to the track. The race itself was great and we captured some incredible footage of an accident in the pit lane. The race was incredibly tense but won by home favourite, Fernando Alonso.
[youtube id="WWkl6lS5sfw" width="600″ height="350″]
And what about the VIP party?
The evening's party was at the Carpe Diem club. I say that evening, but it didn't start until half past midnight, so technically Monday morning! Already a little more than shattered, we soon perked up when as promised we were granted access to the "Super VIP" area with plenty of free refreshments and incredible company surrounded by the likes of Kimi Raikkonen, Nico Hulkenberg, Rubens Barrichello, Dani Pedrosa (Moto GP) and Sergio Perez and our friends from the Paddock.
Kimi was on excellent form, relaxing after finishing second that afternoon. Let me tell you, that when he has had a drink he is certainly not the monosyllabic Finn the media portray him to be. Talkative would be an understatement. Likewise with Perez. He was bouncing around like an excited school-boy living out his dreams. Sitting less than two feet away from these superstars on the same table will be a fantastic memory for our first team Grand Prix.
What's next for you?
For us, we are planning Hungary, Italy, Belgium, Abu Dhabi and Austin-Texas. It will be a frantic next few months of travelling, planning and hopefully some partying too.
Thanks John, we're looking forward to hearing more of your Formula 1 insider news later this year!
John McCurdy is a co-founder of Discover Grand Prix, a specialist travel company that helps fans of motorsport to get up close and personal to Formula 1 all over the world. For more information please visit www.discovergrandprix.com