It's International Women's Day so we thought we would talk about one of the inspirational women in motoring history: Canadian explorer, Aloha Wanderwell. Aloha had many achievements in her life, one of which was being the first women to drive around the world in a car!
Around the World with Aloha Wanderwell
Aloha Wanderwell was a Canadian Internationalist explorer, author, filmmaker, and aviator. One of her most notable achievements was circumnavigating the globe in a Ford 1918 Model T!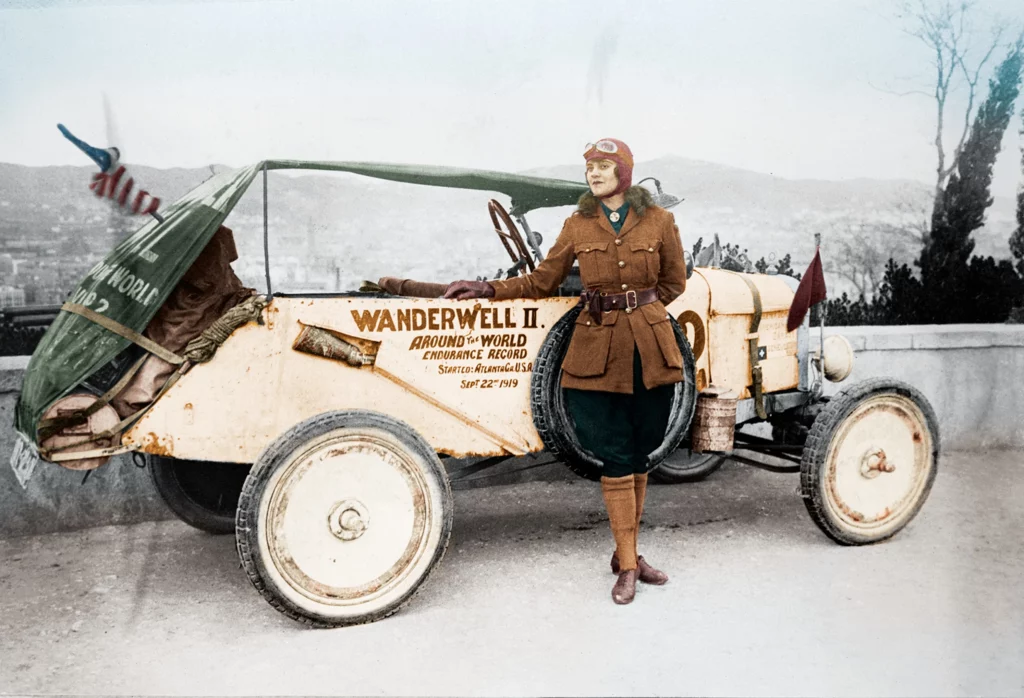 Aloha made this journey between the years of 1922 and 1927, beginning the expedition when she was only 16. She began and ended her 5-year journey in Nice, France. Wanderwell made the journey as driver, translator, and filmmaker for an event known as the Wanderwell Expeditions, a round-the-world motoring tour led by Walter Wanderwell, who would later become her husband.
The round-the-world tour was partially sponsored by the Ford Motor Company and also sustained itself via filming travel lectures. When Aloha reached Calcutta in 1924, her tour crossed paths with planes from the first aerial circumnavigation. This meeting was filmed and was truly a monumental moment in history.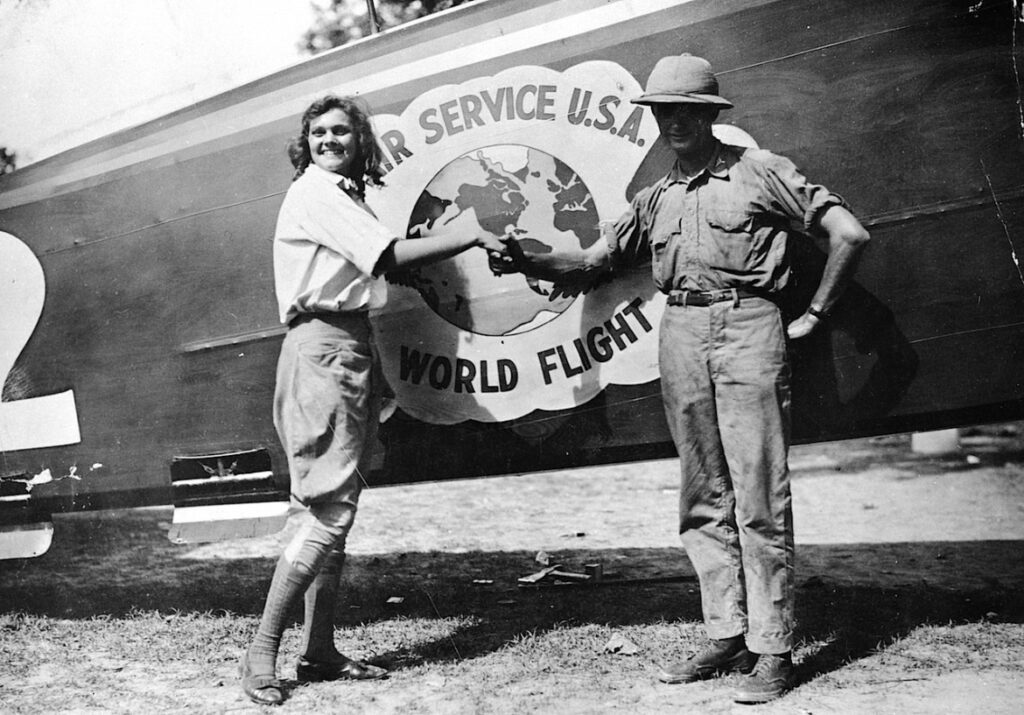 The very first woman to circumnavigate the globe in an automobile was Harriet White Fisher, between 1909 and 1910. Harriet, unlike Aloha, used a chauffeur and did not drive herself. Both women still did great things for women kind and are an inspiration to us all.
The Life of Aloha Wanderwell
Aloha Wanderwell was born under the name Idris Galcia Welsh, on October 13, 1906, in Winnipeg, Manitoba. Her step-father, Herbert Hall, fought in World War 1 as part of the Canadian Expeditionary Force and then was then transferred to the British Army. He was sadly killed in combat in June 1917.
Aloha, at the time Idris, and her family, had followed Herbert to live in Europe before his passing and they spent time living in England, Belgium, and France. During this time living in Europe Idris attended boarding schools in both Belgium and Nice. Aloha, then Idris, began her career as an adventurer in 1922 when she met her travelling companion, Walter Wanderwell (what an appropriate name for an explorer!).
The two were married by 1925 and went on to have two children. During their travels Idris changed her name and began performing on stage as Aloha Wanderwell, giving travel lectures against the backdrop of a silent movie 'Car and Camera Around the World'. The Wanderwells made films of almost all of their travels which are now held in the archives of the Library of Congress and the Academy of Motion Picture Arts and Sciences.
During her travels Wanderwell was once stranded in Brazil for six weeks! She spent this time living among the Bororo people, an indigenous tribe in Brazil, and made the earliest film documentation of them. In 1932, her husband was sadly shot and killed whilst travelling on their yacht in Long Beach, California. Wanderwell later re-married Walter Baker and continued her travels, visiting over 80 countries and six continents, driving over 500,000 miles – all completed in Ford vehicles.
The Many Achievements of Aloha Wanderwell
First woman to drive around the globe
Drove 43 countries in a Ford Model-T
Earliest films of the Bororo people of Brazil
Travelled 380,000 miles to 80 countries in the 1920s
First across India and Cape Town to the Nile
First woman to fly Brazil's Mato Grosso
Filmed the first flight around the world
Member of the French Foreign Legion
Films at The Smithsonian & The Library of Congress
Women's International Association of Aviators
Started work around the World Educational Club
Filmography
As well as her numerous travelling achievements Aloha also featured in a number of films:
Car and Camera Around the World
To See the World by Car
River of Death
Cape to Cairo
Last of the Bororos
Flight to the Stone Age
Australia Now
Victory in the Pacific
My Hawaii
Magic of Mexico
India Now
Explorers of the Purple Sage
Summary
Aloha Wanderwell was truly an inspiration and had many accomplishments during her well-travelled life. The world would truly be a different place if not for her achievements. We think Aloha is an absolute Shero! What is a Shero? A Shero is the term used by Trevi Women's charity to describe a female hero.
Who is the most important woman in your life,? Perhaps they deserve nominating and recognising as your Shero? In support of International Women's Day Vospers are promoting Trevi a women's charity who are doing great work ensuring that women and children are treated fairly and are given equality and dignity via community outreach and funding local authorities and rehabilitation centres. Trevi run a campiagn that allows you to nominate your Shero and will celebrate their 'awesomeness' on their website, social media, and will send her a unique card and badge.
In additional to supporting Trevi, Vospers have also organised a networking event featuring talks from inspirational women in Devon and Cornwall to help raise awareness surrounding equity and equality for women. You will be able to see videos and updates for the event on our Facebook page.
From all at Vospers, have a great International Women's Day.