Vospers Mazda Support Local Foodbanks This Christmas
It was the month before Christmas and all through the town, hungry bellies were stirring and children had frowns. No mince pies for Shannon, no chocolate for Glen, no crackers on the table for Jill or for Ben. The Vospers Mazda team were angry, they raised a fist in the air, 'no one should be hungry at Christmas, it's simply not fair!'
This December Vospers Mazda are going to be supporting the local Foodbanks by asking members of staff and the general public to see 'how much Christmas food a Mazda CX-5 will hold'? The collection commences on Wednesday 30th of November and will finish on Friday 16th of December in time for the charity to receive and allocate items for those in need before Christmas. Local Foodbanks do vital work in supporting local communities with emergency food supplies. 1 in 5 people living in the UK live below the poverty line and charities such as this depend fully on the support of the community to help those in need.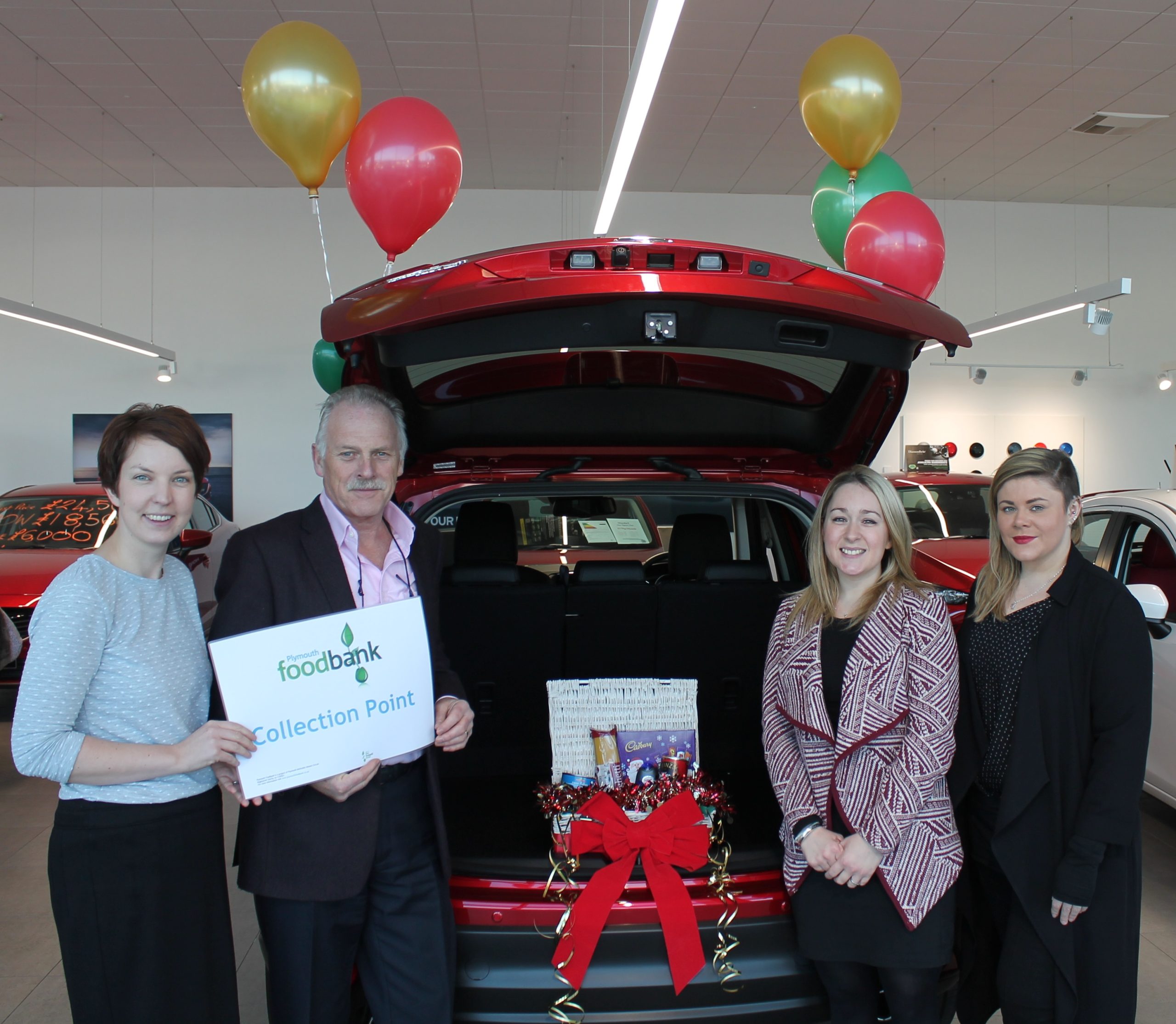 Pictured: Katy Bartlett (Plymouth Foodbank), Alex Bass (Mazda Sales Manager Plymouth), Jessica Bolt and Emma Cooper (Marketing).
Vospers Mazda Plymouth, Exeter and Truro are asking for donations of everyday items such as tinned goods, long life milk and toiletries, as well as festive additions such as mince pies, Christmas puddings and Christmas crackers. The full list can be viewed on the Foodbank Facebook pages and websites, and the Vospers Mazda Facebook page. The charities were 'delighted to hear about such a great initiative. It's always wonderful when local businesses support their communities, especially around the holidays'.
Please visit your local Vospers Mazda showroom at Plymouth: Marsh Mills Retail Park, PL6 8AY, Truro: Treslike Industrial Estate TR1 3LN and Exeter: Honiton Road, EX1 3RS, to contribute your donation.
For more information on the Foodbanks we are supporting please click here for Plymouth, Exeter and Truro.