Vospers has been the home of motoring in the South West for over 75 years. Our success has been down to our people who have built trust and relationships with our customers.
With an annual turnover in excess of £270 million pounds, we have over 500 talented staff across our various dealership locations throughout the West Country; but at its heart Vospers is still very much a family company.
People are important at Vospers, and have a real say. It's important to Peter, Nick, and the company Directors, that everyone feels that they are part of something special.
Vospers Core Values
Everything we do at Vospers aligns to our Mission Statement; the statement really expresses what we're all about with our Core Values sitting at the heart of the business.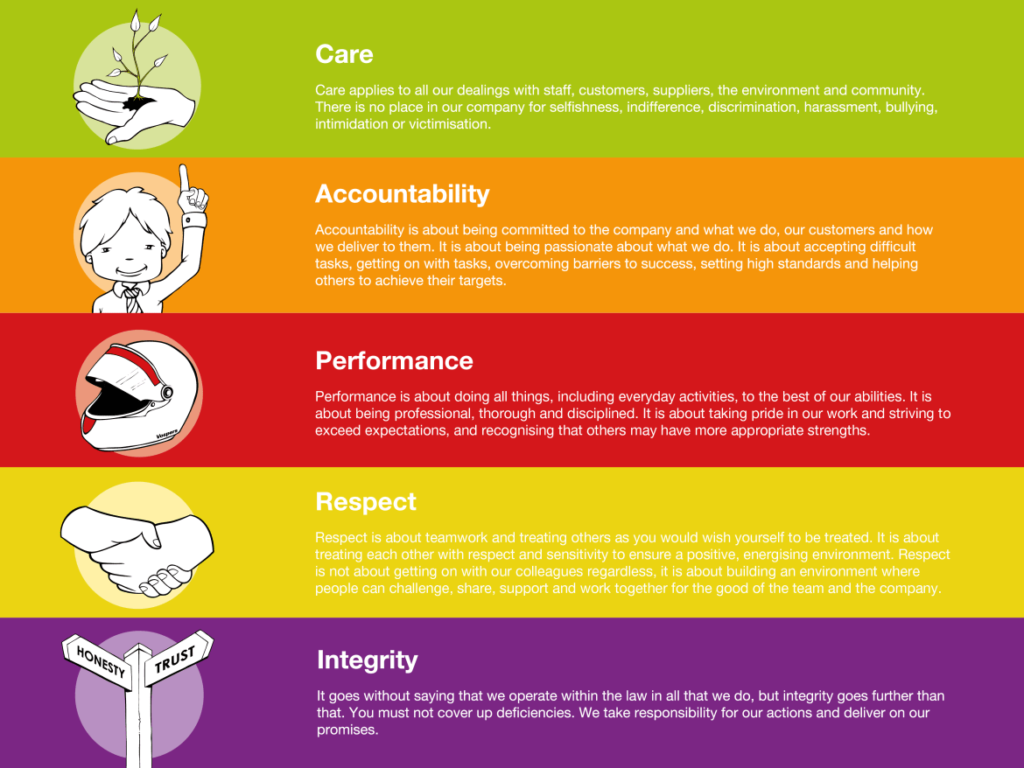 We are proud that so many of our people stay with us and develop their careers at Vospers over the long term. Over 100 of our staff have completed between 10-years' and 40-years' service with the company. We must be doing something right!
Looking ahead, we feel the future is bright for Vospers. We know there will be challenges but we are also excited by the evolution of our industry. As a business that has stood the test of time, we are confident in our continued growth through innovation, investment, and developing new opportunities. We will continue to deliver above and beyond for our existing customers, but are also already looking to the next generation, including a new type of customer with a digital purchase journey.
Vospers Training
At Vospers we aim to offer the very best training experience, numerous colleagues have highlighted that the 'Vospers 5' training course we put our new sales and customer facing team members through is brilliant…
"Loved the training – brilliant, brilliant, brilliant!"
Our passionate Group Training Manager David Webb, delivers courses in a stimulating, engaging and fun way, designed to challenge, up-skill and motivate our new recruits to deliver outstanding customer experiences and perform at the very highest level.
"Dave Webb made this course both very interesting and very stimulating. I would totally recommend it."
Our Vospers 5 courses are designed to be relevant and applicable to your job role, providing colleagues with everything they need to be a success at Vospers, Courses are intense but also interesting and fun. The structure is well designed and simple to follow, making it easy to learn.
"the course was extremely helpful and I am looking forward to putting what I have learnt into practice"
Colleagues who attend the training are given the opportunity to give feedback so that we can continue to learn as a business, constantly improving our training courses so they remain highly effective. The survey asks each attending colleague to give each aspect of our training a score of 1 to 5, with 1 being lowest and 5 being highest, almost all delegates consistently rate the training 5/5 in all subject areas.
It is delightful to know that our hard work and dedication to ensuring our people are the best they can be, and their work environment is a positive one, is paying off.
David had this to say about the feedback his 'Vospers 5' training has received:
"this is what makes it all so worthwhile for me, being able to help and support my colleagues, regardless of the amount of experience they may have, helping new colleagues in particular not just to survive, but to thrive, in what is a challenging, everchanging, and fast paced retail environment."
Schemes and Perks
Our people are important to Vospers and have a real say. It's important to us that everyone feels that they're part of something special. That's why, in addition to onboarding training, we offer our people enhanced employee benefits and opportunities for further learning and development.
Standard Benefits
Competitive salary
Vospers holiday accrual scheme – 22 days/pa increasing with length of service
Your birthday as an extra day off
Half-day paid leave on Christmas Eve
Paid sick leave
Paid compassionate leave
Paid jury service
Contributory pension scheme
Life Assurance
You may also be entitled to:
Company car
Bonus & commission schemes
Private healthcare
Additional benefits…
BEN (Support for Life)
Occupational health services including counselling
Flu vaccination vouchers
Eye care
Flexible working
Learning & development – apprenticeships, professional qualifications, higher education
Employee assistance helpline
Access to GP services 24/7
Healthcare cash plan
Loyalty and long service awards
Staff and customer referral schemes
Exclusive sales and aftersales discounts
Access to online discount schemes
Bike to Work scheme
Access to discounted life benefits
Online health assessment
Discounted gym membership
If Vospers seems like the place for you come and join the family by checking out our current vacancies