FIAT has become the first car manufacturer to launch its own EV incentive in the UK. This is in response to the Government scheme to incentivise car drivers to go electric ending nearly 12 months ago. At £3,000, the FIAT E-Grant doubles the £1,500 offered at that scheme's close in June last year. It is currently available on FIAT's all-electric 500e and 500e Convertible.
The Italian car brand has also written an open letter asking the UK Government to join it in incentivising Britons to make the switch.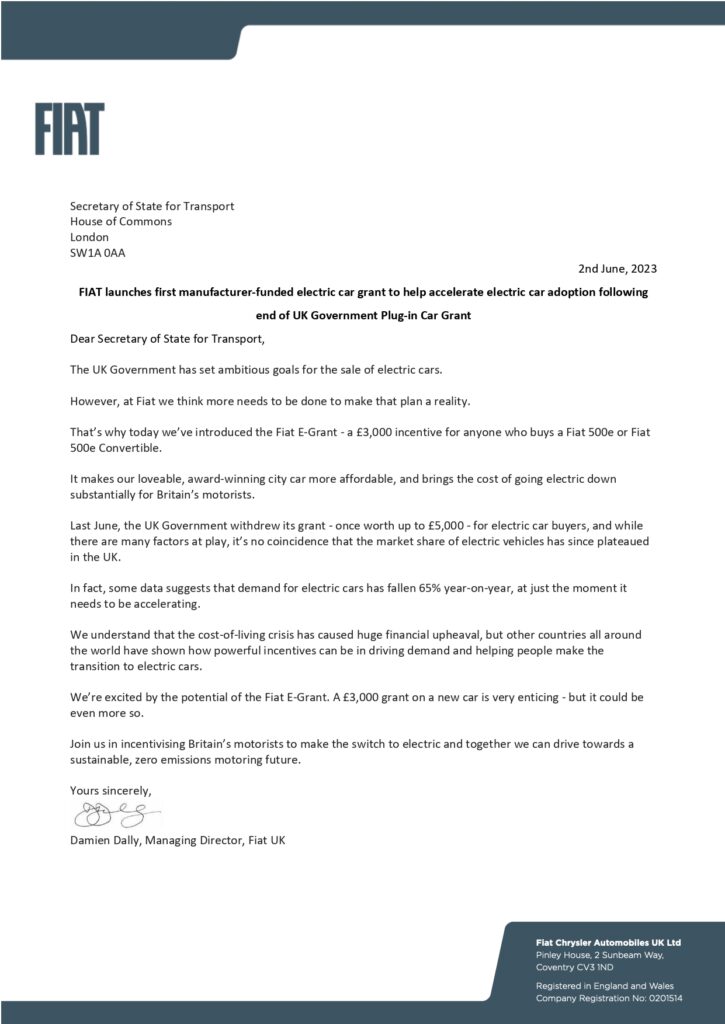 Why Launch the EV Incentive?
Electric vehicle data suggests that the exponential growth of the vehicle segment in the UK is starting to slow. Some data suggests that demand for electric cars has fallen 65% year-on-year. This is likely intensified by the Plug-in Car Grant being removed. In Europe however similar schemes continue to operate. Countries such as Germany and Spain continue to offer significant incentives of up to €9,000. FIAT believes the UK should follow suit.
Damien Dally, Managing Director, FIAT UK, commented: "There's no doubt the government's Plug-in Car Grant successfully kickstarted the UK's electric car revolution – it supported the sale of nearly half a million electric cars.
"We also appreciate it refocusing funding towards one of the main barriers to the electric vehicle transition, public charging.
"However, with the cost-of-living crisis and rising cost of electric vehicles, coupled with our net zero climate targets, we believe more needs to be done to incentivise individuals to be able to afford to make the switch.
"That's why we've taken it upon ourselves to launch the FIAT E-Grant, a £3,000 incentive towards the 500e and 500e Convertible.
"The 500e has won countless industry accolades, it looks great, its compactness suits our busy streets and roads and will certainly put a smile on a driver's face. We want drivers up and down the country to have a better chance of experiencing that."
For more information about the FIAT E-Grant visit: www.fiat.co.uk/500-electric/all-electric-500-hatchback